Please have a look at the contest Light-bikes.de is doing.
They are electing the bike of the year 2009. Only road bikes under 6kg are accepted, other limits are fixed for cross and MTB bikes.
If you think your machine is worth a world class selection, go ahead and suscribe!
If you do not wish to suscribe, we anyway highly recommend you to have a look there, the bikes presented are definitely worth a visit…!
TUNE
German manufacturer Tune updates its quick release range. After the AC14 and AC16/17 series for road and MTB, which remained the lightest of the market for a while, Tune got dropped far in the peloton lately. Indeed, several manufacturers offer way lighter quick releases than Tune.
This is the case of Carbon-Ti, which took the best place of our latest comparative.
This is also the case of Part Of Passion, which is using a design similar to Carbon-Ti, and which makes the Lightweight wheels quick releases.
On the asian side, Token is using m²racer design, the famous company that closed its doors in 2006 (see here).
In short, Tune had to develop a new lighter skewer. The U20 version was presented at 2008 Eurobike: carbon axle, carbon levers, etc. The product does not seem to be offering perfect reliability and so Tune does not wish to make it available yet.
However, the DC14 and DC16/17 skewers are going to be available in the following days. The set of quick releases only weights 35g in MTB version, and 32g in road version. They feature a carbon lever, while the clamping system is realized through a very efficient spheric washer, like KCNC, Carbon-Ti and Part Of Passion.
The price is said to be the same as the current AC14, which is 90/95 euros.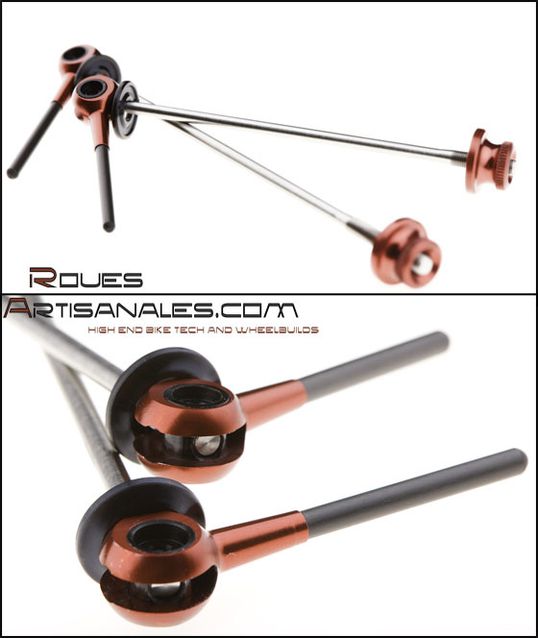 ROTOR
Rotor renews its S1 stem. The Torx double thread DTT system is present for clamping both the handlebars and fork. Rotor says the torque is better controlled. This S2 stem is having a wider main tube which should be coming with higher stiffness.
It is compatible with 31,6 and 31,8mm handlebars. It weights 108g in 110mm.
Available from 90 to 130mm, its angle is +/-7,5°. Like the S1 stem, the front plate is available in red or black.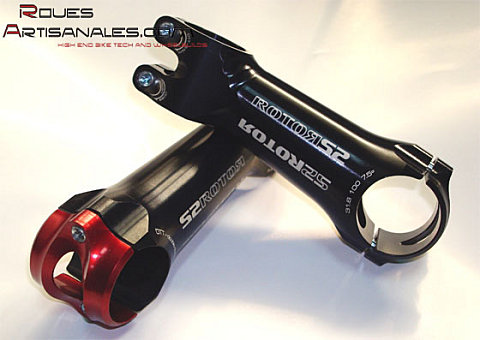 Sauser and MTB Specialized team will be using Rotor components this year. The whole team will be getting 40-27 chainrings, specially made for Specialized S-Works cranks. You know normal Rotor oval position is customizable. The one chosen here for the outer ring is the standard n°3 position. The one of the inner ring, seems to still be customizable between 1 and 5.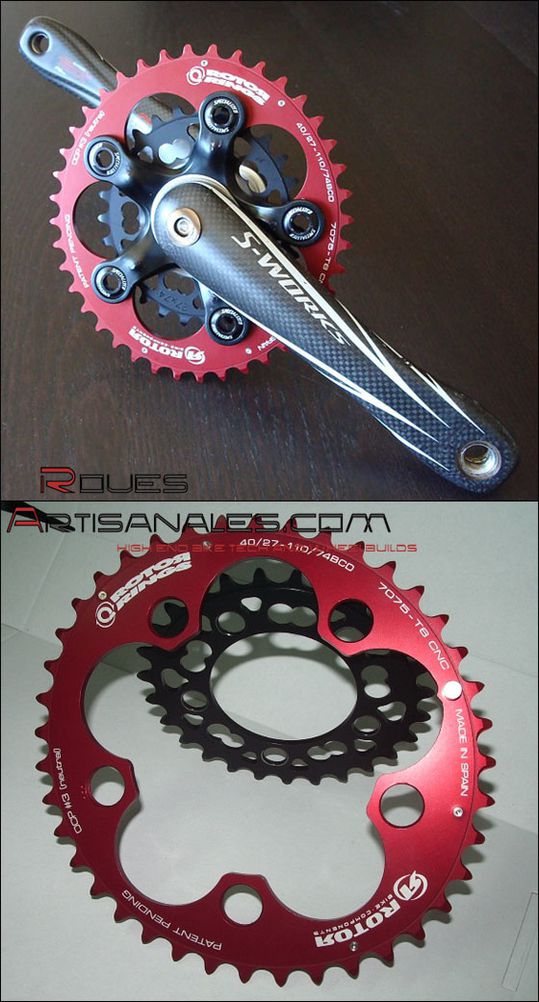 We also invit you to have a look at their newest website: www.rotorbike.com
Shimano 7850 C35TU
We were mentionning them in the former article. The latest Shimano C35 were on Paris-Nice. Stéphane could take a serie of shots. As we reviously sad, the hubs and the spoking remains unchanged. With black nipples, which match most bikes easier than red.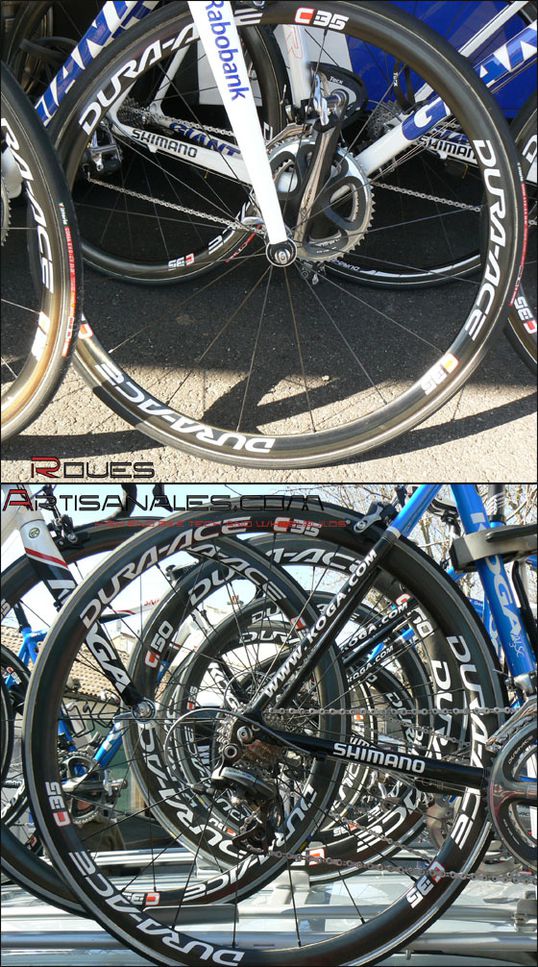 Lightweight Milram
Ridden by Milram riders during Paris-Nice, the Lightweight specifically made for this team with white spoking and hubs, are all the rage.
From a technical point of view, there is no difference. The Lightweight architecture, unchanged since a decade does not seem to be aging.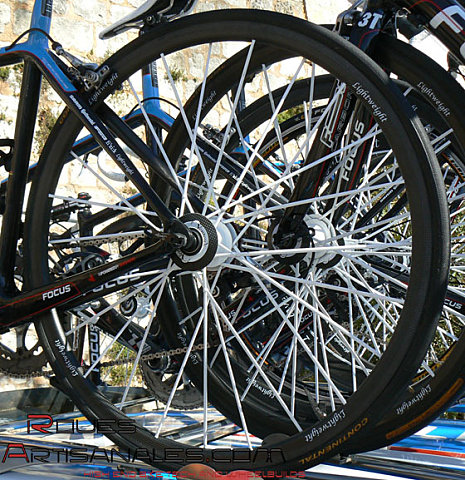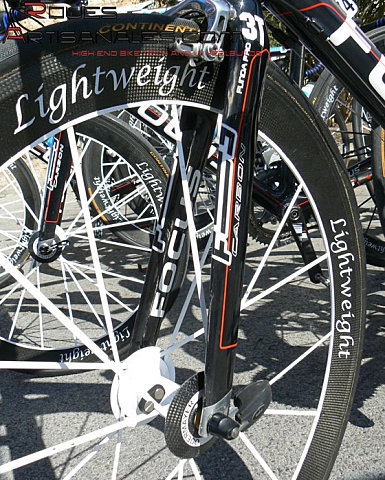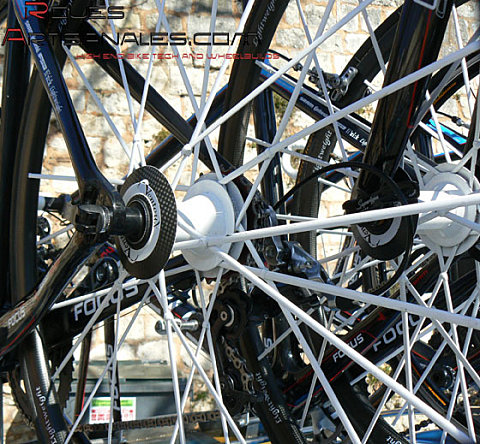 Time RXR Bouygues
At Time, the RXR Ulteam frame is made in a special version for Bouygyes pro tour team. They added a touch of light blue, and a small logo.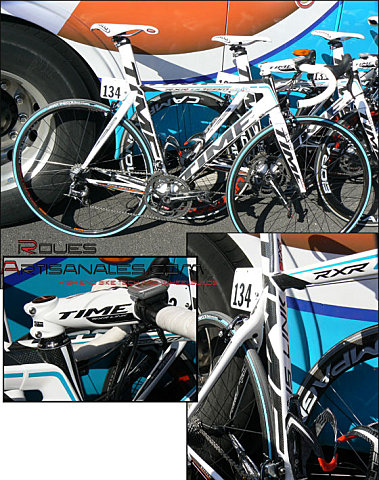 A very stealth version of this frame is presented in Paris, at their Show-room.