After the first new about 2007 Campagnolo news, we now know some more upgrades for 2007.
---
New wheel
A New wheelset following the G3 range, the KHAMSIN is an entry-level model.
Khamsin wheels have an anodized aluminium rim with a height of 24 mm, machined on the sides and with a wear indicator on the braking surfaces. The 2 mm spokes are distributed in accordance with the special Campagnolo G3 geometry, with 24 (8×3) in the front wheel and 27 (9×3) in the rear one. The hubs, also in anodized aluminium, ride on sealed high-quality bearings.
The freewheel body/pawl carrier is a single body as in the entire Campagnolo range, and is compatible with Campagnolo and HG drivetrains.
Khamsin is available in two anodized versions, gold and black.
The weight of the pair is 1.915 g.
The price for the public is about Eur 139.
Khamsin will be available starting from the month of June.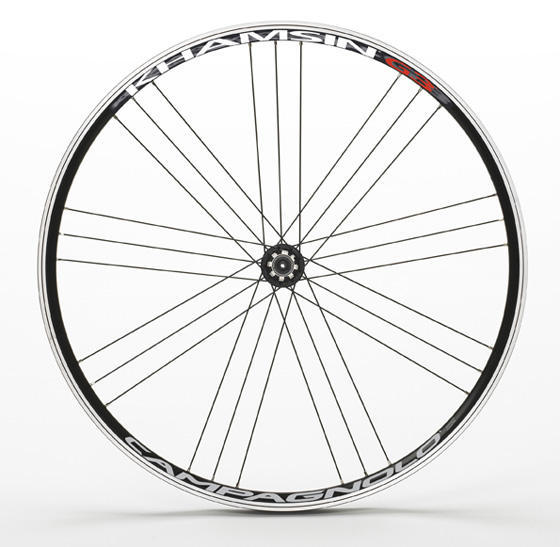 ---
Groupsets
The XENON group is going to be upgraded to 10 speed as the others groups of the brand.
The CENTAUR group will see its shifters and its cranks improved to carbon material. They will certainly be the same as Chorus shifters and cranks from 2006 or 2005. Group price will be the same as this year.
---
Brakes
RECORD brake calipers will be modified in design and weight to be around 250gr the pair. They're said to be looking shaped as a triangle rather than using the current rounded shape. They should be machined a bit like M5 brakes. They'll normally still use the front dual pivot and rear single pivot.
---
Shifters
Shifters internals from any group should be quite much improved to reduce the distance needed to upshift from 3 centimeters to 1 centimeters. They'll be named as QS standing for Quick Shift.
Some rumors tell that only RECORD and CHORUS shifters will still keep the current downshift thump button to drop as many gears as wanted. The others groups will only be able to drop one gear…
---
Cranksets
In this first new about Campagnolo 2007, we standed that 2 "L" shaped parts would fit together in the middle of the bottom bracket, we now know what Campagnolo will use because it has got patents;
http://v3.espacenet.com/origdoc?IDX=EP1352826&QPN=EP1352826
http://v3.espacenet.com/origdoc?IDX=EP1352824&QPN=EP1352824
http://v3.espacenet.com/origdoc?IDX=EP1350714&QPN=EP1350714
In these patents, click on the "Drawings" tab, you'll have the most understandable things you have to know.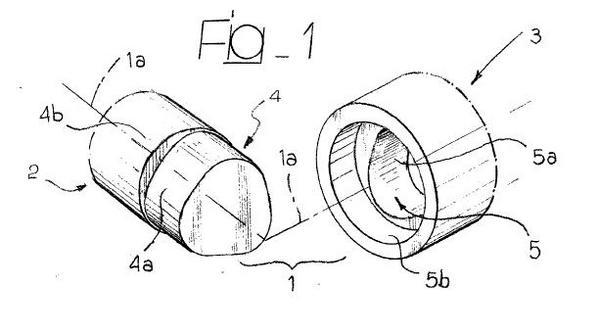 Sources: Campagnolo Club newletter, Fairwheelbikes, Campyonly