Eurobike, second part on the bike component we appreciate the most, i.e. the wheels.
Lightweight
First, Lightweight the famous wheel manufacturer, updates, or releases new components:
– the ventoux wheels are generation 3, they receive the full carbon spokes coming with 30% more stiffness
– the Standard generation 3 rear wheels are available with 24 rear spokes for the most extreme lateral stiffness. Lightweight wanted to beat Mavic with its CCU.
– the clincher wheels are really available, pressure limit 8 bars, CarbonSports tested the brake track intensively at a well known university in Germany, and needed about 26 wheelsets
that failed to get the perfect reliability, and strength.
– the rear derailleur is fully available from this Eurobike
– NEW QUICK RELEASES made out of titanium/aluminium. They weight 32g and are limited to a very high rider weight: 120kg. Carbon-Sports is very confident in the design. 89 euros per
set.
– Indivudual designs are available for the public. They cost from 250 euros per wheelset beside the normal price of the wheels, to much higher prices. It depends on the work involved
into the airbrush.
– Last but not least, Carbon-Sports offers an outstanding replacement program: if you add 10% of the wheels cost, you have a « No question asked » replacement during 3 years old!

Stefan, CEO of Carbon-Sports worked on an amazing project, based onto airbrush, have a look at it: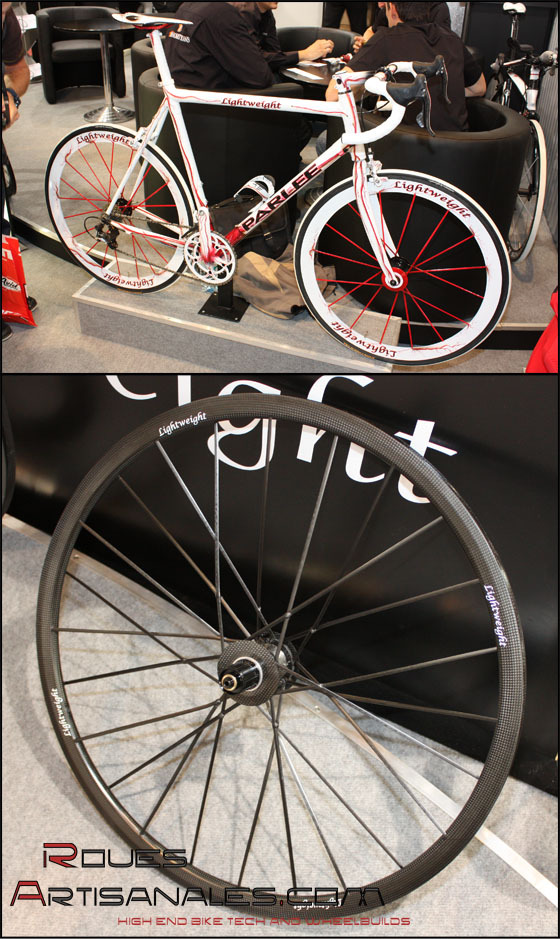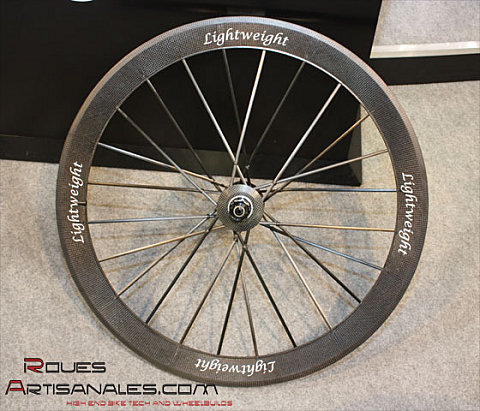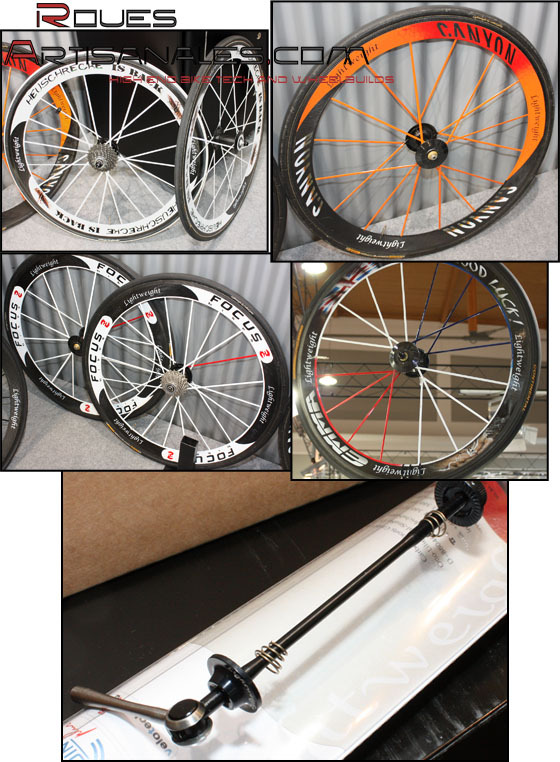 DT Swiss
DT updates its spoke and hub line. Most of the new stuffs are for MTB, but the road range is concerned too. First the Aerolite spokes are available in white, as well as the 240s hubs.
Tune
We believed Tune pushed the enveloppe quite much with the Mag130 weighting only 137g. It looks like it is not the only thing, the Mag110 was presented as a prototype too! The rear hub is
112g, sacry, right?
The Mag130 is for sale, and will be available the next summer. It costs 949 euros, equipped of full ceramic bearings.
Well, the white hubs are available too, a new seatpost was presented, as well as new super light skewers and quick releases, based on a carbon axle, bonded aluminium threads, carbon
levers.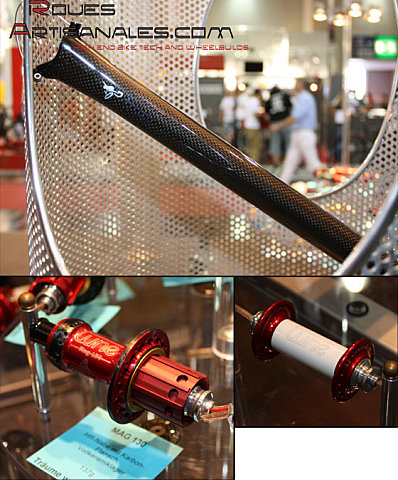 THM
Thm definitely has good ideas. The new aero Scapula has a brake integrated. It seems pretty powerful and we are confident into this.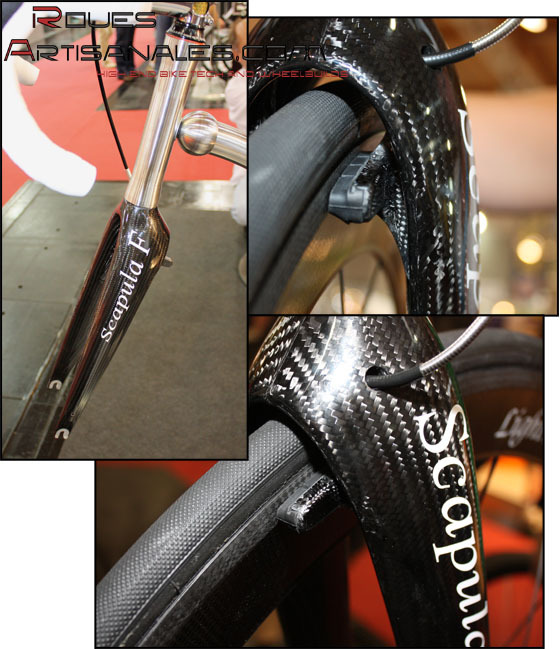 Zipp
Zipp improves its rear wheel with a Mavic like spoking: radial on the drive side, and crossed on the other side. The 255 rims have now there nipples external.
Every wheels receive this upgrade, being Zipp, Flaspoint or Sram.
Several very special looking wheels were presented too.
A new aero crankset, the Vuma Aero was visible too, it is claimed to be reaching new standards of stiffness, while being faster than any competitor.
A new lighter and aero stem was unveiled too. It features inversed bolts, and a dimpled cap.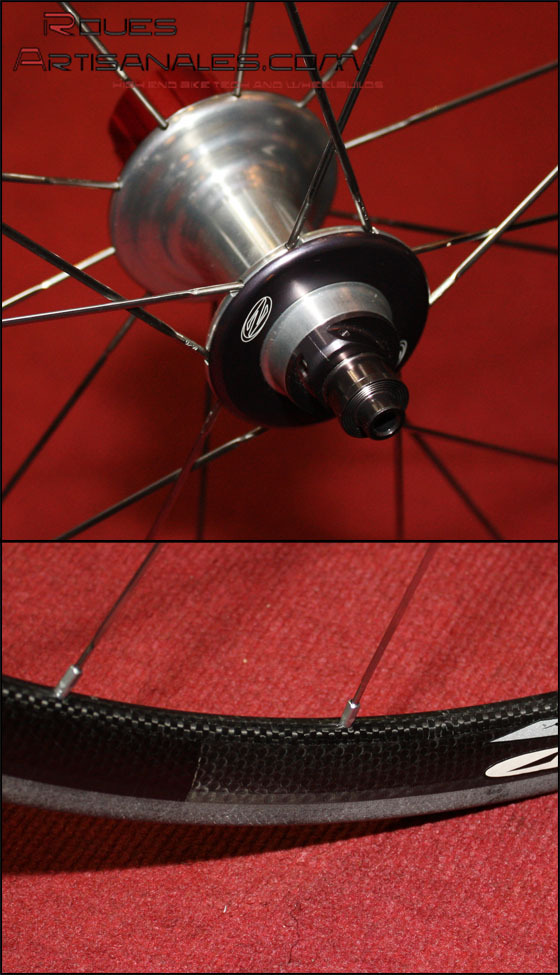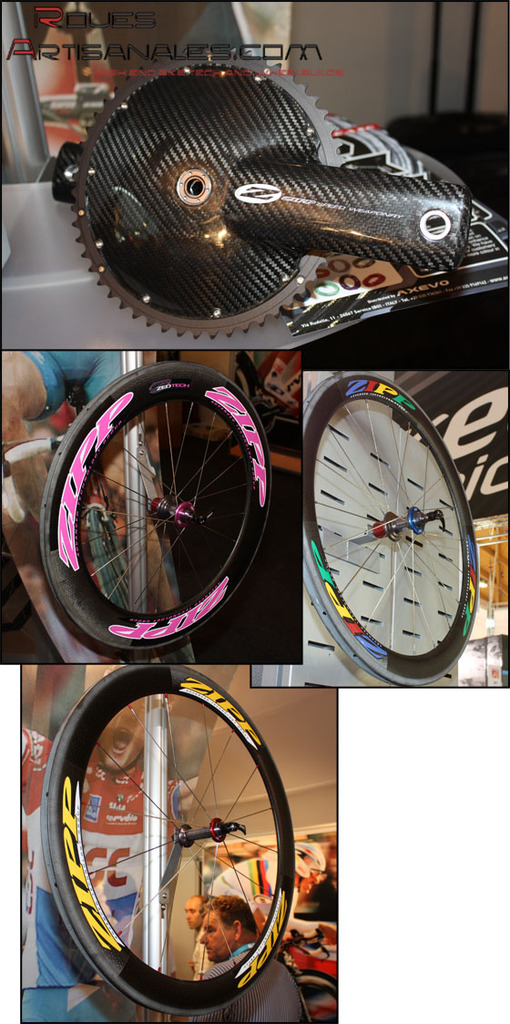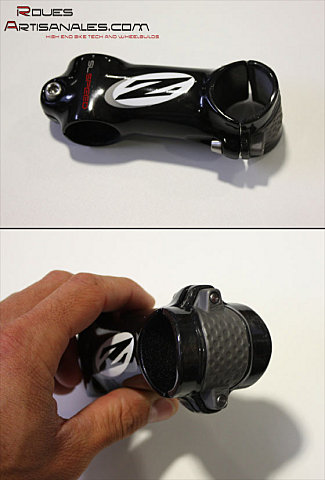 SRAM
The merge with Zipp allowed SRAM to make wheels. They are pretty similar to Flashpoint Zipp wheels but with different hubs.