Extralite 2009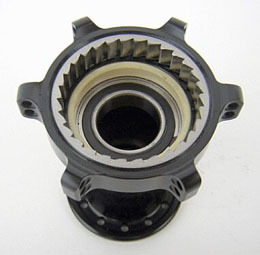 Extralite released the front SX hub some months ago. The italian company is now unveiling the rear version. Straight pull spokes and J bent spokes will be required to build this
lighter than ever rear hub.
As stock components, Extralite offers a hubset weighting in only 183g, 49g the front, and 134 the rear, which is the weight of a very light rear hub, such as the Tune Mag180 (185g) or DT190
Ceramic (192g).
Before building Extralite hubs, we wondered how it was possible to make so light aluminium hubs: the stock Extralite SR is 155g, without losing resistance, nor reliability…
It was obvious after disassembling an SR hub. First, the diameter of the axles of these super light rear hubs is multishaped: between 15 and 17mm. Second, the bearings are pretty big: 6803
and 6804, which is very rare on stock wheels. Third, the hub shell to rotor junction is running through two « plastic » discs, sliding onto each other, which is pretty similar to what Mavic
uses. Last but not least, the play setting is done by hand with the micro-tuner, a knurled plastic bolt. So light, easy and efficient!
The Extralite rear hubs are, from our point of view, extremely well designed.
However, although being ultra light and reliable, they will obviously remain less durable than most heavier competitor hubs. There are at least two causes:
– the two plastic discs sliding onto each other should, in theory, wear faster than a complete bearing. At Tune, this junction is realized by a double bearing, based on a 6802/6902
whose internal race is similar.
On a high end DTSwiss, this junction features two extremely resistant « ratchets », and two springs pushing them against each other.
– Then, the Extralite rotors only have 2 engagement pawls, which are quite thin, to transfer the torque to the hub shell. As comparizon, Tune uses 3, PMP too. Regarding the biggest
wheel manufacturers, Campagnolo equips its freewheels with 3 pawls, Mavic only two, but those are quite wide.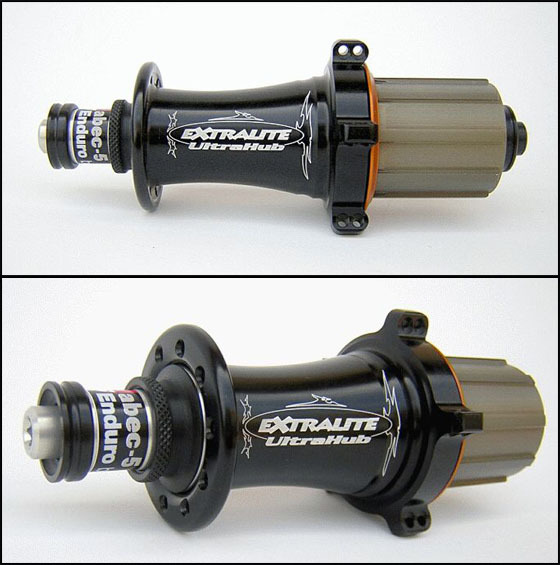 Regarding the design, the Extralite UltraRear SX requires straight pull spokes on the drive side, and standard J bent spokes on the non drive side. Why? Extralite claims a better stiffness
and reactivity. We will keep in mind removing the axle is not required anymore to lace the radial spokes of the non drive side.
The geometry is optimized for Shimano: the right side end nut is shorter than the Campagnolo one, and allows wider bracing angles, thus a stiffness gain.
From a weight point of view, this hub is claimed to be between 134 and 136g depending on the drilling. We are waiting for the first model to test and eventually offer them in the boutique
if we are satisfied.
Extralite range
Front hub
Rear hub
Model
UltraFront SX
UltraFront SL
UltraFront SP
UltraRear SR
UltraRear SP
UltraRear SX
Material
AL7075TX & GRD5 Titanium
AL7075TX & GRD5 Titanium
AL7075TX & GRD5 Titanium
AL7075TX & GRD5 Titanium
AL7075TX & GRD5 Titanium
AL7075TX & GRD5 Titanium
Spoking
J-bent spokes
Straight pull spokes
Straight pull spokes
J-bent spokes
Straight pull spokes
Straight pull spokes/J-bent spokes
Bearings
2×6801
2×6803
2×6801
2×6803/6804
2×6803/6804
2×6803/6903
Axle
14mm
17mm
14mm
20/17mm
20/17mm
17mm
Weight
49g
62g
49g
155g
150g
134g
Price
149 euros
149 euros
149 euros
349 euros
389 euros
399 euros

Tune 2009
Some informations about Tune 2009 were unveiled on our fellow member Light-bikes.de website. The main news concern the MTB hubs with the X12 system allowing very easy wheels installations/
A new color will be added to the already very wide color range at Tune: red/blue/black/silver/pink/orange/green!
The Mag140 which was under development since two years old is finally added to the catalog. It will keep the shape of the Mag150, current high end rear hub, but with a couple of
upgrades to save a few grams.
A new prototype is under development. It is also based on the Mag150 design, but it pushes further the limits. 137g …
We invit you to have a look at the german website for more information.