9 riders will test electronic Shimano group
As shown on Roues Artisanales team Gerolsteiner rider Ronny Scholtz is on a prototype of an electronic Dura-Ace group. Shimano did not want to comment these parts and the Scholtz didn't mention it in the diary on his personal website.
However belgian Rabobank rider Roy Sentjens could test it as well and gave some feelings about it on the on his website:
"Vorige week heb ik het nieuwe schakelsysteem van Shimano getest. Het is een elektronisch systeem, en ik moest samen met enkele Japanners gaan fietsen om te kijken hoe het werkt en wat er eventueel zou kunnen veranderd worden. Ik vond het zeer goed werkte, zeer snel en zeer correct, het zag er zelfs mooi uit. Wat me ook nog heel erg meeviel, is dat het slechts 100gram zwaarder is dan de normale dura ace. Ook zijn er geen kabels meer die voor het stuur lopen, het ziet er heel mooi uit."

Translation: "Last week I tested a new Shimano group, an electronic one. I had to go biking with some Japanese guys to see how it works and what could probably be changed. I thought it work well, very fast and correct. I even looked nice. It is only 100gr heavier than the normal Dura-Ace group, a thing I liked a lot. And there are no cables in front of the bar. It looks great."

So, this is the only info we got: it works well according to this test rider and he is told it to be only 100 gram heavier than the classic 7800 Dura-Ace groupset, what is very nice!
Battery is still as prototype and changes on it and on the front derailleur will be do of course since it's not very elegant as Cyclingnews said.
About battery length of life, there's no information yet, let's hope to have a good batterey status indicator that works well, it would be too bad to be gear less at 5km of the finish line.
We got info about 9 riders will be testing this group. 3 electric groups were sent both to the Rabobank and Gerolsteiner Pro Tour team, as well as groups for the whole Skil-Shimano continental pro team.
These Discovery Channel riders will test this group:
– Viatcheslav Ekimov
– Guennadi Mikhailov
– José Luis Rubiera
previous Roues Artisanales articles:
Shimano electronic, picture!
---
Riis and Jacques-Mayne testing SRAM Force group
On the other hand CSC's director Bjarne Riis was reported testing the new SRAM Force group. Before, on the Cervélo website a video was seen with Riis riding his new equipment, as well as a training picture. Rumours go CSC could be the second professional team, talked about on the SRAM website, to be sponsored by SRAM.
John Padfield provided two extra pictures of Riis SRAM equipped bike, taken during the teams training camp: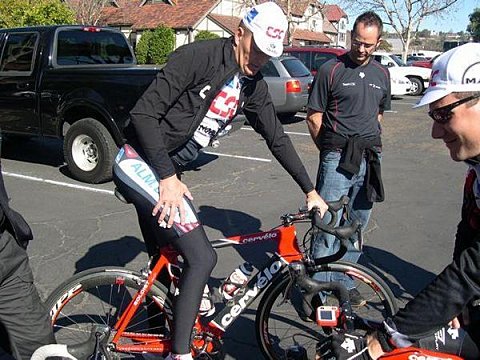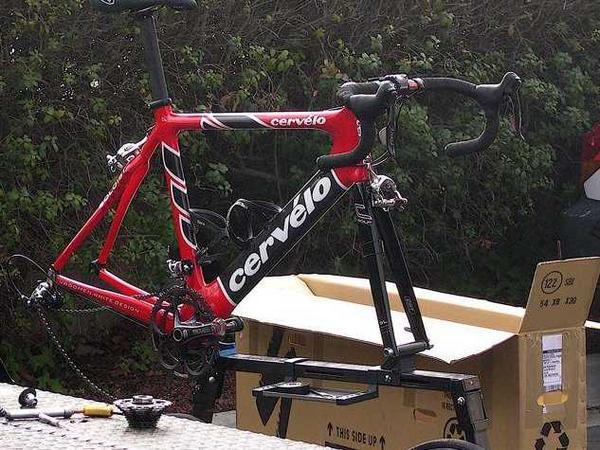 Meanwhile, the SRAM group was tested in the Amgen Tour of California by Kodakgallery.com/Sierra Nevada rider Ben Jacques-Mayne.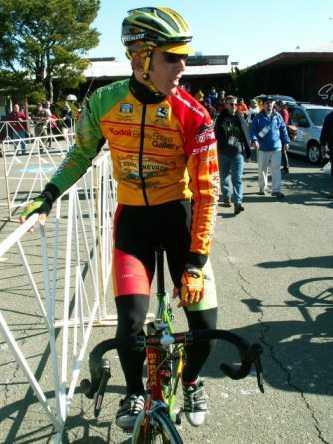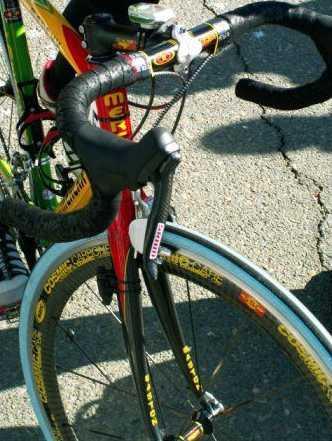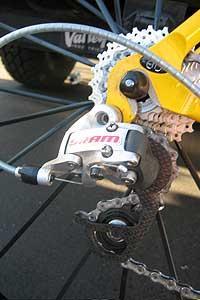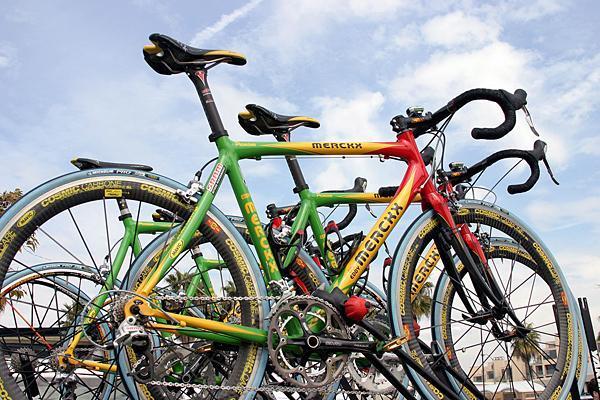 previous Roues Artisanales articles:
CSC testing new shifters
Eurobike 4
SRAM Force
pictures by:
John Padfield through Cyclingnews.com
website team Kodakgallery.com / Sierra Nevada
info:
CSC team
SRAM
team Kodakgallery.com / Sierra Nevada