Colnago CX1 – Revolution
The famous italian company is going to offer a brand new frame in November 08. The CX-1 is designed for racers looking an agressive and modern frame. Colnago focused on improving the
stiffness to transfer the power as well as possible, but as well on the weight (1010g) to climb in the best conditions.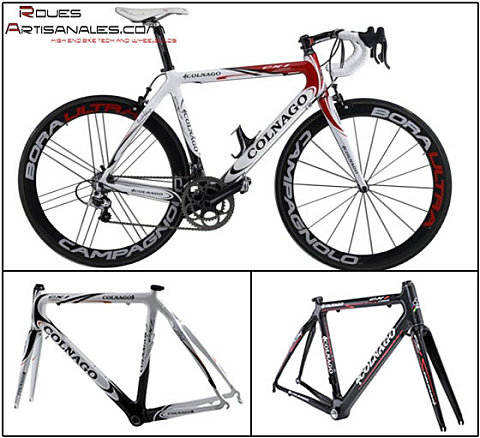 ---
FMB

In Bretagne,

François Marie

, artisan manufacturer of tubulars, provided

Quick Step

with special hand-made tubulars

for

Paris-Roubaix

. They seemed to work pretty well since

Tom Boonen

took the best of them until the end.


Photo ©: James Huang/Cyclingnews.com


The artisan makes custom tubulars and we got in touch with him for a set of lightweight tubes, with silk casing and a good resistance. François made us two
sub200g tubes in 20mm and a prologue rubber. « There is no problem to use prologue tubulars on good roads, but it's better to avoid loose stones and gravels » said the
artisan.
Custom hand-made tubulars, excellent work and amazing ride qualities, we like these a lot!
---
Mavic
While it lost its interest when the clinchers got released, the tubular is coming back at the same time as the carbon wheels, since 5 to 6 years. For our friends the mountainbikers, the
tubulars are not so common, the difficulties to repair them and their high price do not make justice to their ride qualities. Tubular MTB wheels are very rare, only a couple of
manufacturers dare shyly offering such a rim. It seems like the trend is changing since Mavic is doing it tii! Light-bikes.de got the chance to take a couple of shoots, during
the world cup in Offenburg, of tubular CrossMax for a Cannondale Lefty fork.


More information (german)