Although we are still the big shows are still some way away, SRAM chose today, 18th April to present its 2009 line-up. Red, Force and Rival groupsets are updated though the changes are
relatively minor upgrades. The Rival groupset gets some carbon composite.
---
Sram Red
The crankset gets an important upgrade:
– New 30mm axle diameter instead of the current 24mm
* it is stiffer
* the weight is reduced
* the Q-Factor is reduced
* the bearings are larger making them stiffer and more durable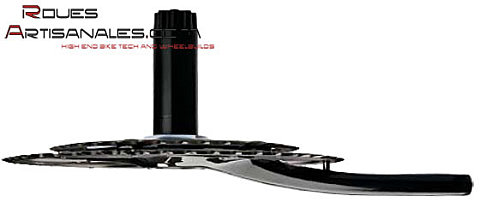 There are two new cassettes offered in addition to the the current 11/23 and 11/26:
– 11/25: 11, 12, 13, 14, 15, 17, 19, 21, 23, 25
– 11/28: 11, 12, 13, 14, 15, 17, 19, 22, 25, 28
It would certainly be good if SRAM offered cassettes starting with a 12 tooth sprocket which would be better suited to casual riders. Let's hope SRAM is busy with this too.
---
Sram Red – TT

SRAM extends its time trial offer with new components.

– A PowerGlide technology chainring:
* 55, 54 and 42 teeth
* Grey tungsten finish to improve durability
* Aero chainring with greater stiffness too

– The 500TT derailleurs levers have a Red touch
* cheaper than the carbon version
* the rear derailleur lever is indexed, the front one is operated on a friction mode
* 154g per set

– Aero brake levers, the 500TT:
* red color
* 115g per set, which is 16g heavier than the carbon version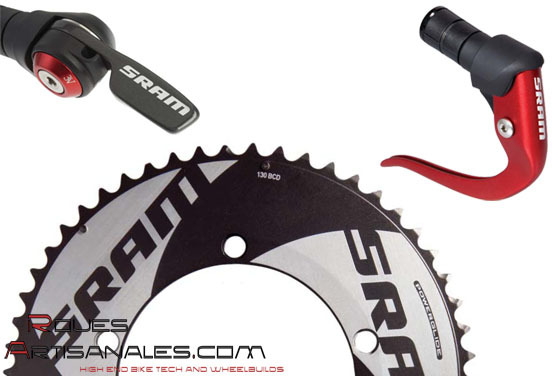 ---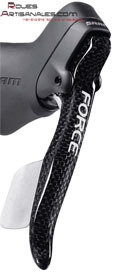 Sram Force
The SRAM Force groupset gets several upgrades trickling down from the Red groupset. Only the levers are modified:
* They are longer
* The shifter paddle is reworked, it is widened
* The brake and shifter cable housings can run along either side of the handlebar
* Reach adjustment is included
* The front derailleur features the Zero-Loss technology which engages front shift immediately.
---
Sram Rival
Certainly the most reworked for 2009. It uses a lot of the systems featured on the high range groupsets. This will probably be a best-seller if the price is right.
– Black finish
– Carbon levers (320g, 20g saved)
* Zero-Loss system for the front derailleur (see explanation above)
* The brake and shifter cable housings can run along either side of the handlebar
* Reach adjustment
* Aluminium widened shifter paddle
– Aluminium hollow cranks, OCT technology (open core)
* 40g shaved off the previous version
* Available in compact (110mm), and standard (130mm)
* Crank length from 165 to 180mm