<<< Back to the boutique



We offer hybrid ceramic bearings from CeramicSpeedfor the hubs, the bottom brackets, as well as an upgrade on all our wheels. Hybrid ceramic bearings have hardened steel races and
silicon nitride balls. This combo with very hard balls brings several benefits:
– lower wear

– longer life
– corrosion resistance
– lower rolling resistance
– dirt and dust proof: the balls clean the races thanks to their hardness
– lubrication is almost useless
– weight save: ceramic balls are 60% lighter than the steel ones
The traditionnal steel bearings have 2 rubber seals (2RS) to be dirt and water tight for a long life. They increase the rolling resistance because they are in contact with the balls cages.
The hybrid ceramic bearings have extreme resistance balls and require a lower watertightness. Only one seal with no contact (ZZ), facing the exterior of the hub, where there is the most
dirt, is enough. This further reduces the rolling resistance for a speed and power save. It is the setup we adopt when the « ceramic bearings » option is chosen.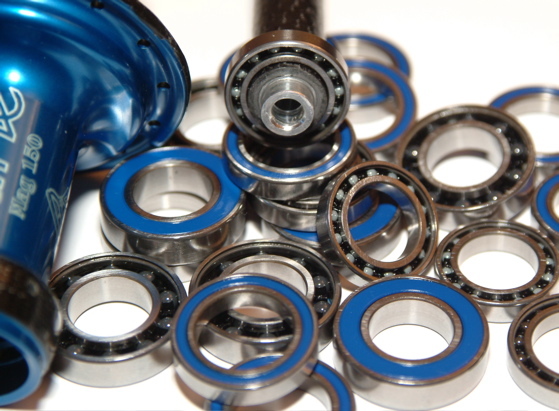 We have the following ceramic bearings for the hubs of our boutique:
– 6801
– 6802
– 6803
– 6804
– 6805
– 6901
– 6902
– 6903
However, every sizes, for wheels, bottom brackets, as well as jockey wheels, are available on order.
The price ber wheel bearing goes from 50 to 80 euros depending on the size.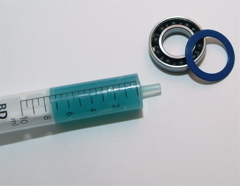 Every bearings kits we sell have a siringe to fill the grease and ZZ « no contact » seals.
A sticker kit can be added if needed.
Every bearings are pre lubricated. The special ceramic bearings grease must be measured out with parsimony to keep the ultimate fluidity of these bearings. In case of intensive use in
difficult conditions (mud, water), it is useful to increase the amount of grease.