Properties:
Weight: from 235 to 255 grams in 700 x 22
Inner tube: butyl
Casing: 180 tpi
Thread: Diamond pattern, bi component.
Price: €85
Miscellaneous: Contains a Vectran layer to improve puncture
resistance
Mounting:
This tubular is pretty difficult to mount on a rim immediately. As mentioned in the user manual, it's advisable to put the tubular on the rim without gluing for at least 12 hours to
ease the subsequent gluing procedure. Even taking care with this procedure, the temporary fitting requires patience because the tubular seems of a smaller diameter than the rims.
Fortunately, with some strength, it fits. Once this first step is done, the final gluing is easier.
In the field (on the road):
First impressions, due to its butyl internal tube, this tubular provides a lower standard of comfort than a latex tube equipped tubular. It feels more clincher-like than a typical
tubular. Most users are aware of this and have chosen it for other reasons. The impression of performance that can be found with a latex inner tube is also absent, but still is higher
than with a clincher.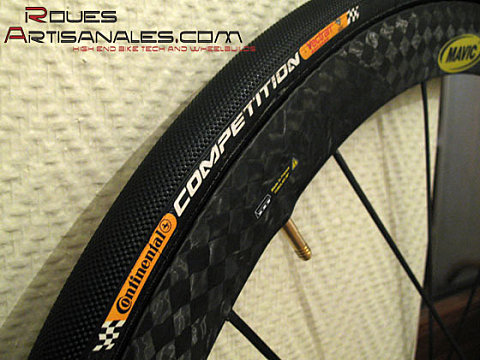 Grip: In terms of grip, this tire is much better than the previous testing criterion. Through a few thousands kilometers of testing we didn't lose traction once! Whatever
the racing or riding condition, this tubular always provided a very good cornering grip.
Durability: This is the second strength of Continental Competition tubular. After a season of intensive use, we didn't have any flats. The Vectran layer seems to be
effective. In terms of wear, these tubular are also amongst the best. With my 73kg, the diamond tread pattern disappeared after 1,000-1,500 km. We can expect a life of 2,000km.
In conclusion:
This tubular is aimed at cyclists looking for grip and resistance rather than pure racers looking for the good old tubular feeling of agility. Hitting the scales at 245g, it's still quite
light and this is likely another reason why a lot of famous pro riders and racers use them.