I thought a lot about the introduction of this article. Initially my intention was to simply write a quick "No comment", I then realized that a machine of this level deserved more. The bike (if we still can call it a bike…) has been carefully built by pk0r, a bike and ultra-light parts fanatic. After the 2005 Eurobike, he searched for the rarest and most exceptional pieces. He left no stone untouched.
The frame, a Parlee Z3SL is custom made. The geometry, the design, the decals, the finish and the tweaks are all made according to pk0r's wishes. The result is an exceptional piece of work by Parlee, that tips the scales at a scanty 858gr. Something like 20gr of additionnal carbon structure has been added to the bottom bracket to make it stiffer. The geometry has been adapted to perfectly match with the THM Scapula SP fork and the m²racer headset combination.
Parlee uses a specific procedure for lugs and tubes construction. The lugs are formed around mitered tubes and aligned carbon fiber joints instead of plugging tubes into pre-formed lugs. Carbon fibers sheets are cut carefully and laid in place by hand. The tube joints are then cured in a mold under high heat and pressure to virtually eliminate all voids and resin pockets. This working method results in an extremely clean joint and a livelier feeling frame equivalent to a monocoque due to a more direct carbon-to-carbon bond.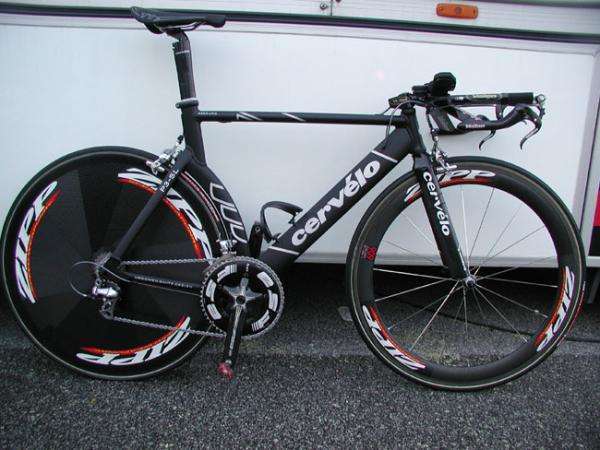 The Scapula SP made by THM has become a standard for lightweight bike. A tiny carbon piece is added between the fork and the headtube to make a smoother and a more esthetically pleasing transition.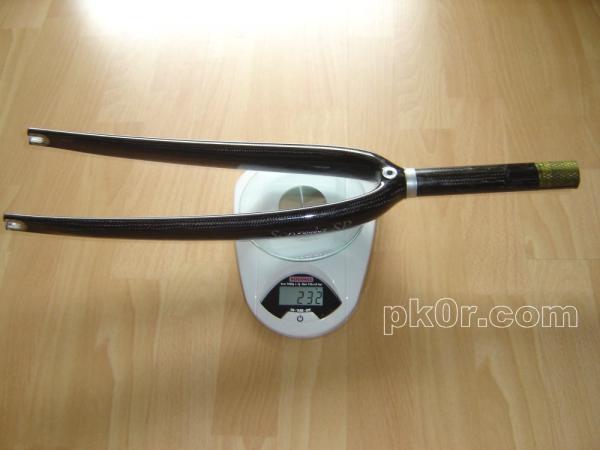 Wheels are Lightweight Obermayer that are just under one kilogramm. Spoke count is minimal; 12 front spokes and 20 rear spokes. These wheels are durable contrary to a common thought. Quick releases are the latest 37gr world's lightest m²racer skewers.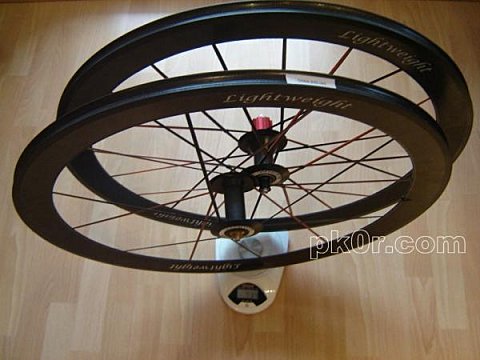 The drivetrain is custom Campagnolo Record, of course. The rear derailleur is tuned with a Fibre-Lyte carbon back plate Ultra light, Speedware carbon pulleys and alloy bolts. The front derailleur and the shifters are tuned as well (alloy bolts for example).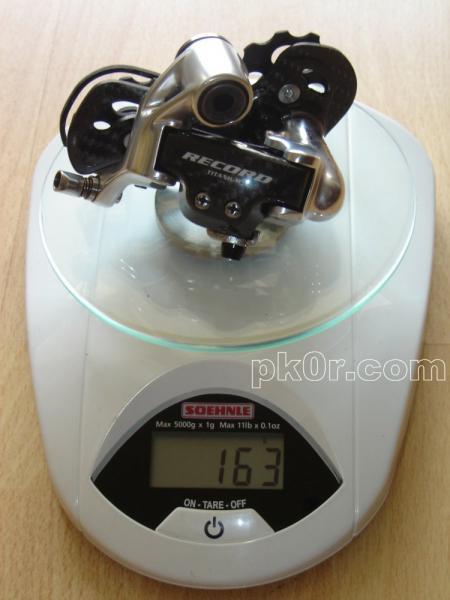 His THM Clavicula crankset is modified too because it has got low friction hybrid ceramic bearings instead of tradional ones. Chainrings are made by Fibre-Lyte that I quickly presented in a last article. (read the article)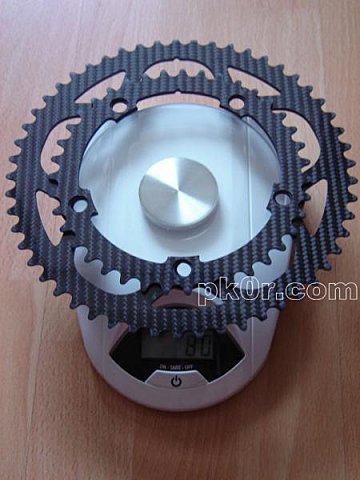 In summary, here is a brief descriptive. You'll have a complete build list on pk0r's personnal page: www.pk0r.com
Lightened specifications:
| | |
| --- | --- |
| Frame | Parlee Z3SL |
| Fork: | THM Scapula SP tuned |
| Crankset: | THM Clavicula tuned |
| Stem | Syntace F99 |
| Handlebar | Schmolke Carbon TLO |
| Seatpost | AX-Lightness Daedalus |
| Saddle | AX-Lightness Phoenix |
| Shifters | Campagnolo Record tuned |
| Rear derailleur | Campagnolo Record tuned |
| Front derailleur | Campagnolo Record tuned |
| Brakes | AX-Lightness Orion tuned |
| Pedals | Speedplay Zero titanium tuned |
| Chain | KMC X10SL |
| Wheels | Lightweight Obermayer 12/20 |
| Quick releases | m²racer |
| Sprocket | KCNC 11-23 |
| Tubulars | Veloflex Service Course |
| Cable housings | Nokon Konkavex Carbon |
Final bike weight is 10.898 lbs or 4.937 kg (latest weight) ready to ride including a Sigma Sport BC1606L speedometer.
His bike project is really exceptional. Not only due to the low weight, but also functionally, because every part has also been selected based on stiffness and durability.
The bike will be updated in some weeks.