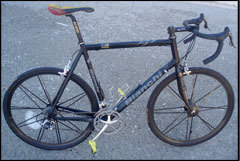 Recently the high-end carbon wheel market has grown dramatically. For over a
decade, Lightweight didn't have any real competition, but since 2007 things have been changing, when two major brands decided to offer new light carbon wheels. First, on 27th January, the
exceptional Lew Racing Pro VT-1 wheels, providing unimaginable performance, were released. Second, on 15th February, the super stiff and quite affordable Mavic Cosmic Carbone Ultimates
extended the French manufacturer's range.
The list is getting bigger again with a French manufacturer, currently unknown, at least to the public, is finalising his pre-production prototypes…
For some reason, he wants to keep quiet but we will be able to tell you more in a few weeks.
Obviously these wheels are entirely made out of carbon fiber. Weight is about 1000g, which tells you a lot about the target customers: those in search of pure performance.
Mid-deep curved rims, around 30mm, carbon hubs with large flanges, flat spokes from the same material, and finally paired spoking, a la Bontrager.
We will update you as soon as we can.