Jeremy Parfitt, the head of Alchemy Bicycle Works, distrubutor of Tune, M5 and Sapim in the US, is about to offer his own front hub.
Jeremy focused on stiffness and low bearing resistance, but he didn't forget the touch of lightness that makes the product attractive.
First of all, from a geometry point of view, the distance between the flanges reaches a huge 80mm, allowing a very wide bracing angle to make a laterally stiffer wheel. For comparison, the distance between the flanges of the Tune Mig70, DT240s, or Extralite SX is more or less 74mm.
Second, although the bearings are not particularly « big » (6900 designation which is 10x22x6), they are pretty resistant to static loads. Their resistance is even higher than most bearings usually found in light front hubs: from 688 to 6801 and 6802 or 6803. This high load resistance gives a longer life, furthermore they are hybrid ceramic bearings coming from Enduro Bearings.
Third, the bearings are placed as close as possible to the dropouts  in order to give maximum stiffness.
In terms of weight, the prototypes are about 58/59g. The final version will be a little heavier at 62g.
Finally, in term of price, it will be close to the Tune Mig70 range.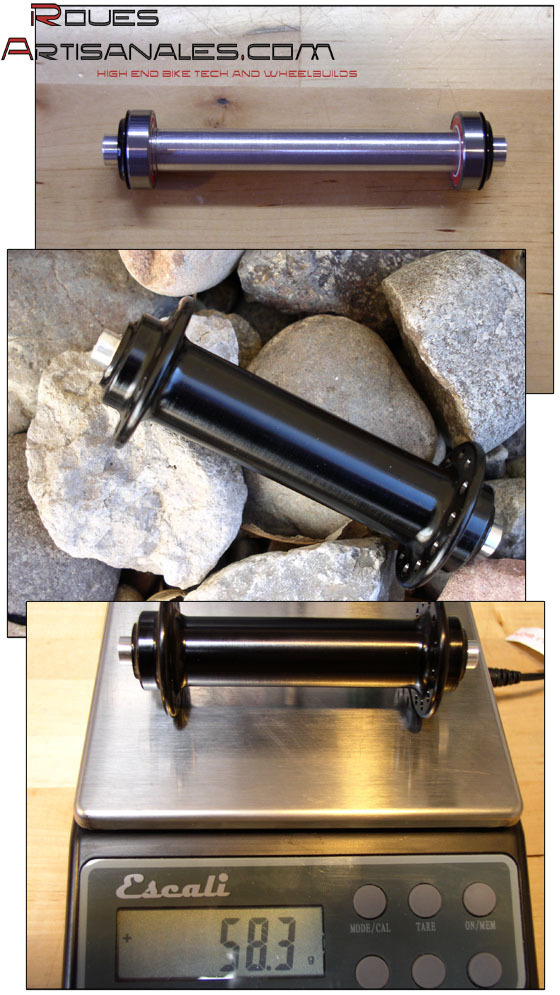 The rear hub is still under development and it should officially be presented in 6 months. Here too, Jeremy concentrated his energy on making a stiff, reliable and quite light component, with a target weight of 190g.
We got a few pictures of the prototypes, showing the very large non drive-side flange. Take a look: