The Italian bike show of the year took place in Milan and ended this week-end. A few new high-end parts were presented and Nils, official representative for Lew Racing was nice enough to let us know every news on Fairwheelbikes forum.
From the famous, super light, super high-end tech manufacturers, AX-Lightness and Ingenu was the most interesting.
AX-Lightness, involved in Formula1 racing, has the opportunity to acquire the latest
technology, knowledge and has access to new materials. Their bike parts obviously benefit of those breakthrough and this is particularly the case this year since they will be re-introducing
the SL series for 2008. A new handlebar, the stem, as well as the other components such as the brakes, the saddles and the seatposts will yield lighter weights and will be manufactured
according to the rider weight… An upcharge, not finalized yet, has to be expected of course.

Uranos handlebar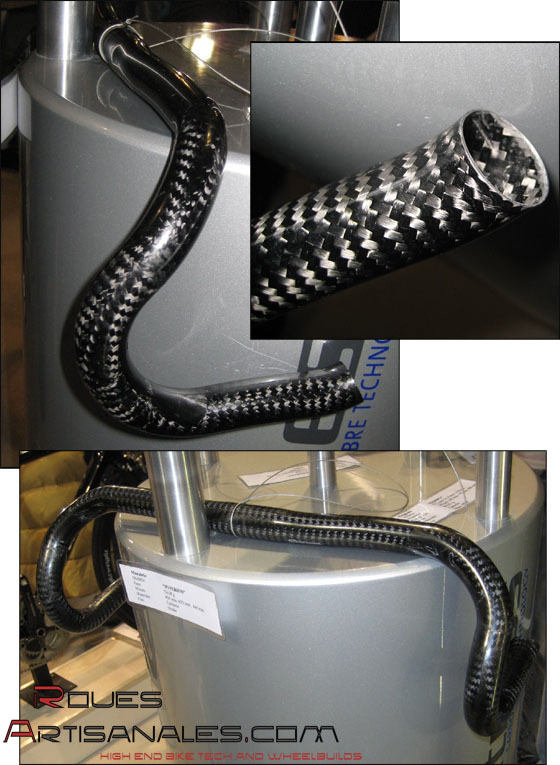 Photo ©: Nils – Lew Racing / Fairwheelbikes
The Uranos handlebar is AX-Lightness' latest baby. Entirely made out of carbon, it will come in 3 widths: 400, 420, 440mm and eventually in 460mm, all in two versions. The first is the
stock one, which is going to weight between 125 and 130g. The second is the SL version, it is made out of a different carbon and is optimized to rider weight. A mere 110g has to be expected
for this custom version…!
This new handlebar has been designed to be as anatomic as possible with several shapes, drops variations.
The stock version will be around 550-600 euros, which is very close to Schmolke's TLO bar, and the availability is hoped before Christmas.

Zeus stem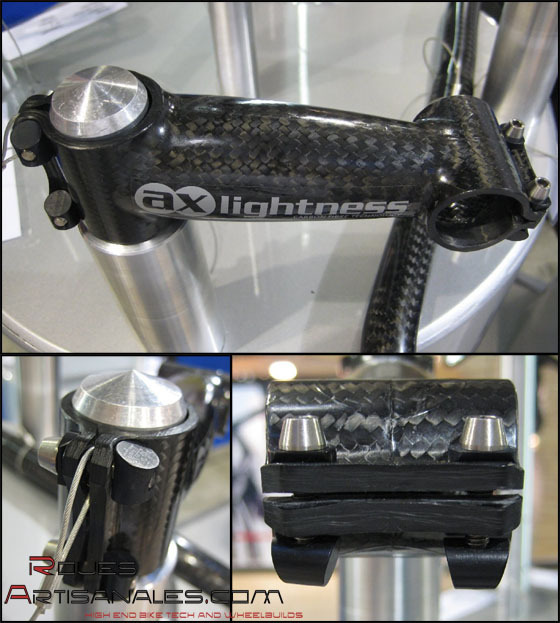 Photo ©: Nils – Lew Racing / Fairwheelbikes
We are speaking about the Zeus incredibly light, full carbon stem since '06 Eurobike. It was, at this time, only a prototype. The production has started lately for the 110mm version and the
sales for the entire range: from 90mm to 120mm should be effective this year, or the incoming year, depending on the date the moulds will show up.
Ingenu Myth
This new sexy, very light, and very special crankset was unveiled at Interbike 07 show (see here).
Rico de Wert who designed it, did a great job and the more pictures of these are published, the more this crankset system seem interesting.
Three versions: carbon, titan, steel, the prototypes are on the way, the Q-Factor is now getting very correct with 138mm. The Ti version is to be welded by
Darren Mark Crisp from CRISP Titanium who is renowned as one of the best Ti artisans in the business. In short, this
new cranks are really pushing the envelope… final weight will be amazing.
Nils published a gallery of the early prototypes:
http://www.fairwheelbikes.com/nils/Components/Ingenu/Myth/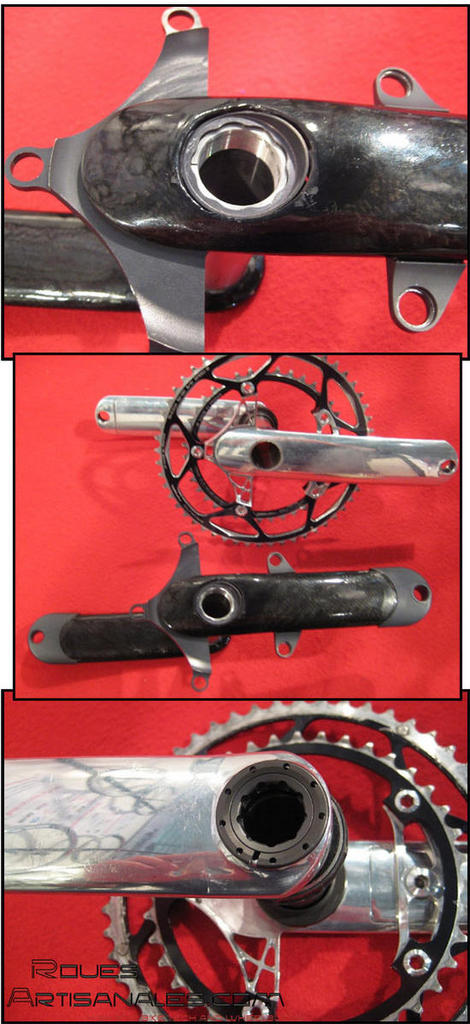 Photo ©: Nils – Lew Racing / Fairwheelbikes