It's all change for the Shimano Dura-Ace electronic groupset!
During the Tour of Germany, Jay Cee took some shots of the Rabobank team's bikes. Rabobank are testing the latest version of the groupset. Without an official announcement, it seems unlikely it will be available in 2008, particularly with changes at this late stage. All the same we're keeping our fingers crossed we might see it unveiled at Eurobike.
The shifters
The new shifters are redesigned. A touch of black metal on the upper cover replaces the former plastic one, the shapes are rounder and the hoods get a rougher pattern to prevent slipping because of the sweat! This version looks very close to a commercial version.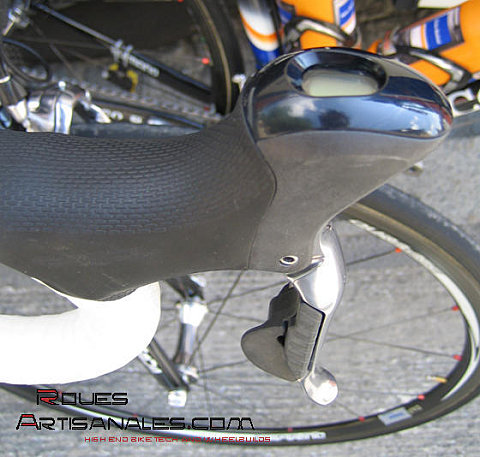 Click to enlarge
Photo ©: Jon Cannings / joncannings.blogspot.com
Comparison with the first version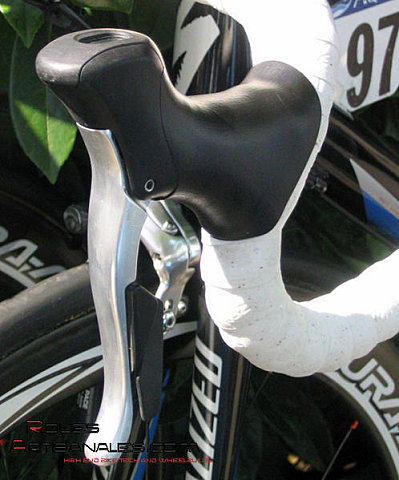 Photo ©: Fabien


Photo ©: Fabien
The rear derailleur
The rear mech shape has evolved too with a more refined and better finished shape, like the shifters. Definitely a superb component!

Click to enlarge
Photo ©: Jon Cannings / joncannings.blogspot.com
The first version
The front derailleur and the battery
A few changes here. The battery gets an extra rib and looks slightly larger perhaps with higher capacity. The front derailleur looks to have grown, it certainly looks complicated!
Click to enlarge
Photo ©: Jon Cannings / joncannings.blogspot.com
The previous version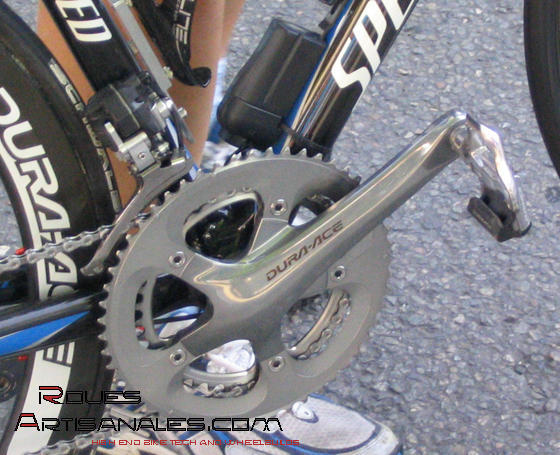 Photo ©: Fabien
You can follow the evolutions of this groupset since early 2006 through these articles: