Since some years, TUNE propose a Skyline wheelset based upon Zipp 280 rims and classic retail available TUNE hubs.
This year, TUNE makes things really good and could get a partnership with Reynolds to use KOM rims. These rims are the lightest ones with a nice 220gr.
The german company has upgraded their hubs since a new rear hub is developped. It is incredibly light and is made for radial non drive side pattern. Carbon is used in the flanges, we'll see in some weeks how the hub will be called. We should be ready for a Mag140! This means the hub should be around 140gr, perhaps slightly more. TUNE already had the lightest hub with its Mag150 but it's now killing any rival with it!
The front hub is a Mig45 with full ceramic bearings, it weights a nice claimed 35gr.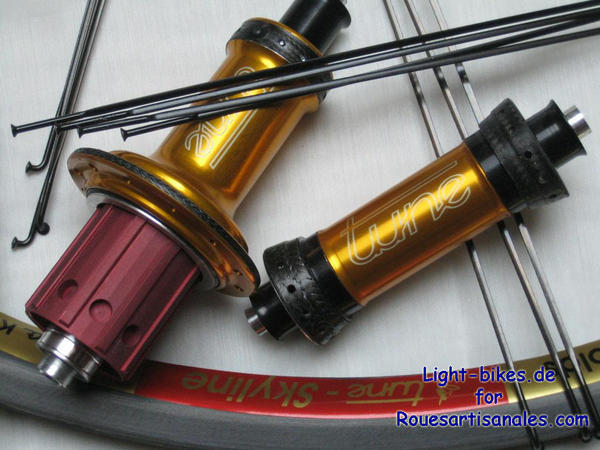 Wheelset weight will be close to 850gr with Cx-ray spokes.
Thanks to Light-bikes.de for the picture.