Lew Racing pushes the envelope. Unhappy to offer the technically most advanced rims ever created, Paul Lew created a second version of the Pro VT1 for custom hand built wheels. This
newest version is visually identical to the standard Pro VT1, which was released about one year ago. But on the scale, or even in hand, the difference is quickly perceptible! With a feather
235g per rim, against 275g for the standard version, the Lew Racing Pro VT-1 B+ rims will make you reach the top of the world! The feat is made possible thanks to the addition
of boron fiber to the rim. Thus the structure still is as stiff, impact and tension resistant, but about 40g are shaved off.
The braking, with brake pads for alloy rims is still as powerful.

The two samples presented below will be unveiled during the Sea Otter Classic, in the United-States in the following days. The rims of the B+ serie are guarantied sub 250g and are
still 46mm deep. The price will be about US$1200, which is approximately 900 euros per rim in Europe.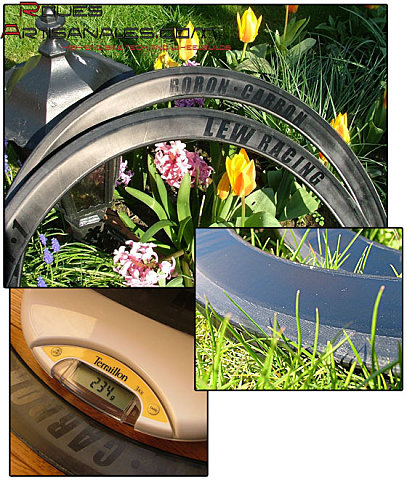 Certainly, the character behind all this have brought a lot to the bicycle world. Reynolds, Shimano, Edge, to quote only a few prosperous companies, all beneficiate of Paul Lew's knowledge.
The first one bought the manufacturing process of the old rims (2002), the second got helped to make their carbon rims (2004) and the last one copied a part of the process.
When will we see a full boron version…? The light high quality tubulars will soon be heavier than a high tech rim!