It's already a few months since we presented a new weight record. The last « championships » took place during Eurobike and Interbike and the few days following.

First of all, Lightweight featured its Challenge 700 weighing 759.6g behind glass on their booth during Eurobike. Lew Racing then responded with their Pro VT-1 made entirely of boron, at
just 736.4g. And finally, Sebastian Roth, a real Weightweenie reached a pleasing 721.3g after some modifications to the Challenge 700!

We thought the cold war was over, but we didn't bank on Günter Mai, a man married to a weighing scale. Günter bought the full boron Lew Racing Pro VT-1
with some ideas in his head… Read below how a bike wheelset is almost sub 700g!
---
Relentless, both on the bike and in his garage…


Paul Lew started this weight war with his super light wheelset – a very special version of his Pro VT-1, made in full boron, from the hub to the rim and the spokes, in
order to compete with the better known German wheels. Günter Mai, a man who spends serious hours on his bike, picked up a set of these
already very special wheels. With up to 1,000km a week on his carbon steed, he certainly rides more than most of us.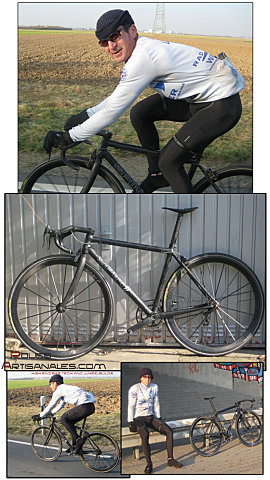 He built the world's lightest bike of 2007 (3.3kg), and is trying to convince the world his super light bike is a perfect everyday ride and doesn't suffer any reliability issues. We believe
him. However, we must admit that his 6-speed cassette, the frame shifters and thin bartape shortened as much as possible is a little over the top… OK, everyone has his point of view on
lightness. This said, the German isn't only a good rider and good at choosing and assembling the lightest parts. He also has some creativity, and more importantly the ability to work with a
lathe to lighten already light parts further. But he doesn't want silly weight savings, he focuses on clever lightweight constructions to retain high reliability and stiffness.
The freewheel body is a good example: since he only uses 6 cogs, why not machine the extra splines and drill the body?! It's done, and it doesn't compromise function: he's already used this
for 1,200km without any problems! The axle end cap diameter was a little too much for him too, so he machined them down and shaved a few more grammes.
In total 32g has been shaved off. OK it's only about a mouthful of isotonic but it is a real challenge to save even more on a wheelset like this. Beside this, any saving is good as long as
it doesn't affect reliability or performance!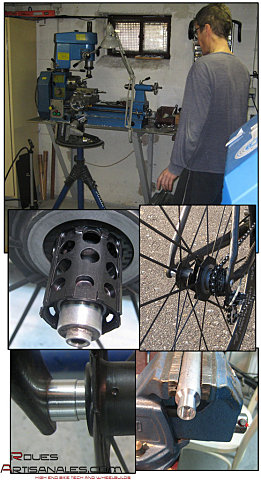 ---
The lightest?

The weight record is a success. This wheelset will certainly remain on top of the podium for some time…
704.4g for a complete wheelset. That's crazy, right? Nowadays light tubular factory wheels of similar rim depth are normally about 1,400g – or two pairs of these
beauties.
Any chance we can have a try?!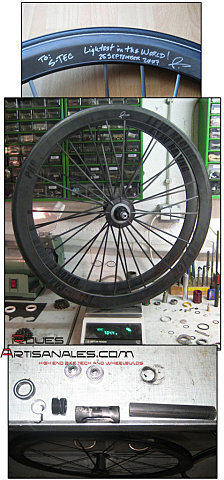 In parallel, Günter modified a couple of components on his bike, which feels like a feather and weighed in at a mere 3195g. This is a perfectly rideable/usable setup. Most
of us would not be comfortable with this machine, but the owner loves and rides it everyday. This is what matters.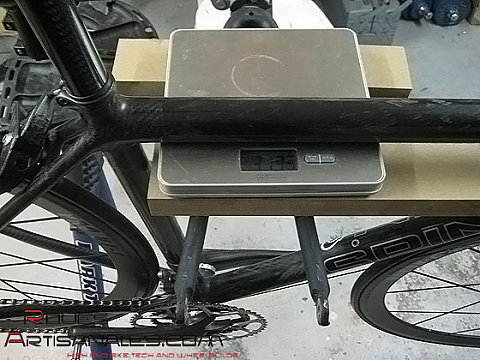 Thanks to Nils, who had a ride with Günter for the pictures!