KURVE CNC Brakeset
CarbonTec has added the KURVE CNC brakeset to their range of products. These superlight calipers are made to exacting standards from the best 6061T alloy. Cnc machinning, titanium
bolts, 7075 aluminium barrels adjusters and frame fixings make these sweet brake very light with only 144g per pair (w/o brake pads). The design is patented, meaning an unique design: the
cam lever mechanism, modulates the caliper with equal force to both arms giving smooth yet controllable braking power, actually as a dual pivot caliper.
They are available in CNC and polished black, with a very limited edition Gold anodised. Their price is £199.99.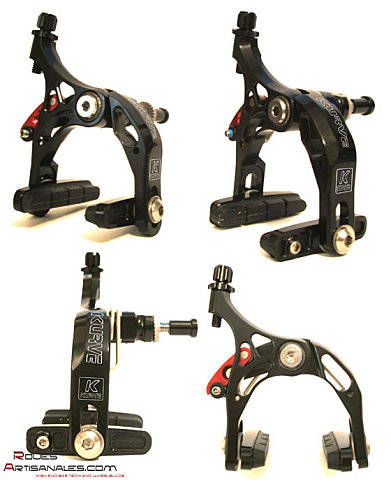 Tiso
Tiso is on the way to offer an 11s groupset this year, during the Eurobike. Although we wonder if 11 speeds are really required, we are glad this exotic components company is pushing
the envelope. Will it need a special hub body? Will the rear wheels be even more unbalanced than they are already with 10s?
We will know more this year.
Shimano rumors
Beside the carbon crank arms presented a few months ago, Shimano will have some other new stuffs for the second part of 2008.
First, the electronic groupset should finally see the light in shops and should be available in quantity in 2009.
Second, the Dura-Ace levers will have their derailleurs cables under the bar tape, a la Campagnolo.