The famous ceramic bearings manufacturer and supplier unveiled today a new product designed in collaboration with ROTOR for their bottom brackets (SABB: self alignement bottom bracket). The
bottom brackets cups receiving the high standards ceramic bearings are offered in three differents colors: red, black and silver.
In Tour de France 2003 a new bottom bracket saw the daylight – Shimano introduced a new standard with their external bottom bracket cups. From 2004 until today CeramicSpeed has upgraded
thousands of BB cups with CeramicSpeed bearings and also worked as supplier for crankset manufactures. 2006, ROTOR began to offer CeramicSpeed upgrade kits for their SABB bottom bracket –
in 2007 ROTOR agreed to produce external BB cups for CeramicSpeed – we´re proud to present the CeramicSpeed bottom brackets.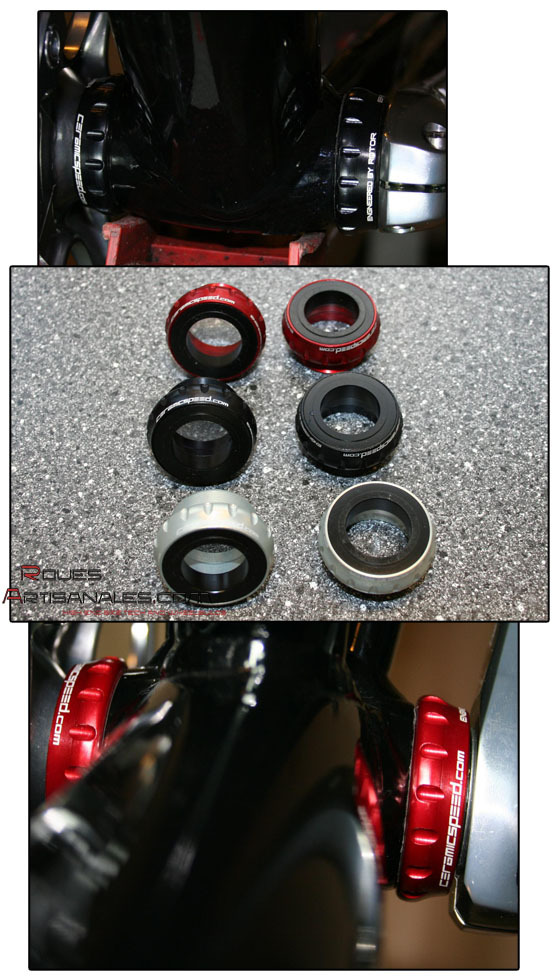 The construction of this component is about the same as the FSA MegaExo or the stock Shimano Dura-Ace/Ultegra and 105, which is different from the ROTOR SABB version. Their weight is about
89-90g, depending on the colour. The weight save is about 3 to 13g on the standard stock versions.
The price is 120 euros out of VAT.
Source: www.ceramicspeed.com