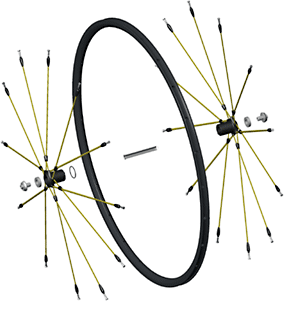 The newest Topolino
Carbon Core wheels were unveiled at the Interbike about two months ago, where they generated quite a lot of interest. We covered briefly this important United-States event
through an article you can read from this link.
Still a prototype, the current models use Reynolds KOM rims (230g), associated with the Topolino proprietary spoking pattern: the carbon/kevlar spokes are bonded together with the hub
flanges and can be replaced.
This new wheelset, which will fully be available during the fourth quarter of 2008, differs from the others Topolino wheels:
– Super light Reynolds KOM rim
– Full carbon hub instead of a carbon/thermoplastic composite, made in three parts: the flanges plus their spokes and the central part.
– New termination design at the rim
– Lightweight axle and hardware
– Full ceramic bearings (balls+races) instead of steel
– Expected in the low 800/840g the set (360g the front)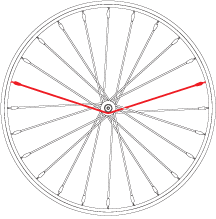 There are quite a lot of advantages for this special construction.
First of all, in case of failure, all the spokes of a side and their flange can be replaced for an estimated price of 100$. Second, the carbon/kevlar spoke structure is uninterrupted from
rim to rim and provide an extreme fatigue resistance. Third, as final argument, these hoops fortunately can't go out of true.
Raphael Schlanger, founder and chief engineer doesn't only focus on weight save and light items, he wants every products to be robust with the sturdiness of a much
heavier wheel.
The price of the wheelset is not decided yet. However, we heard about 5500 dollars.