The new Pinarello Prince Carbon is used since almost two months by the Pro Tour team Caisse d'Epargne. It has been redesigned and gets several strong arguments notably in the aesthetic department! It is made out from a new 50HM1K carbon fibre. This very thin weave has a tensile strength of 50 tons per square centimeter. This strength has allowed Pinarello to reduce the amount of carbon used and thus the total weight without sacrificing the stiffness, the resistance or stability at high speed. The frame weights in under 900g (claimed), putting it amongst the lightest available.
Pinarello has turned a corner in the development of bike frames with this new model. They gained a new level of insight into how tension and compression forces stress a frame under racers' strength. The fibers and ribs are strategically oriented to reinforce, stiffen, increase bike stability at high speeds while keeping the touch of comfort and vibration absorption.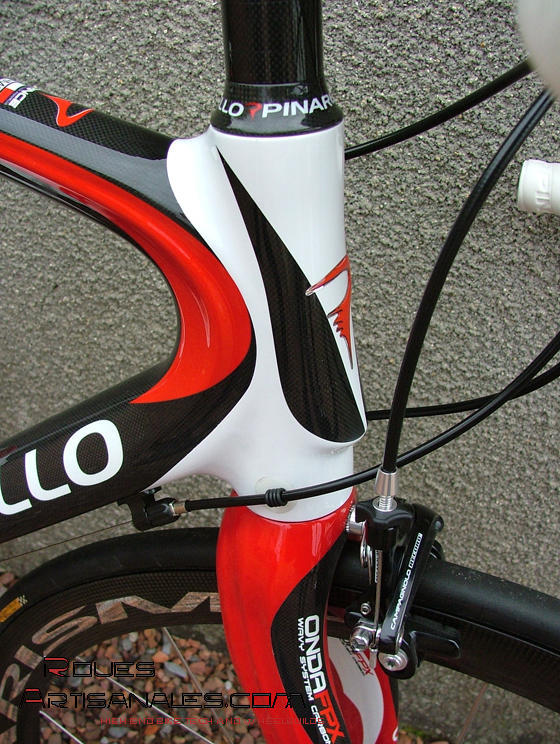 The Onda FPX fork uses the same carbon fibre as the frame. It has an extra "wave" compared to the current Onda, which is supposed to improve vibration absorption. Lateral ribs increase the stiffness which powerful riders will appreciate. The dropouts are entirely in carbon. This saves weight and the fibers continue to the tips of the structure.
The headset is integrated to the frame with 1" 1/2 diameter at bottom and 1" 1/8 on top.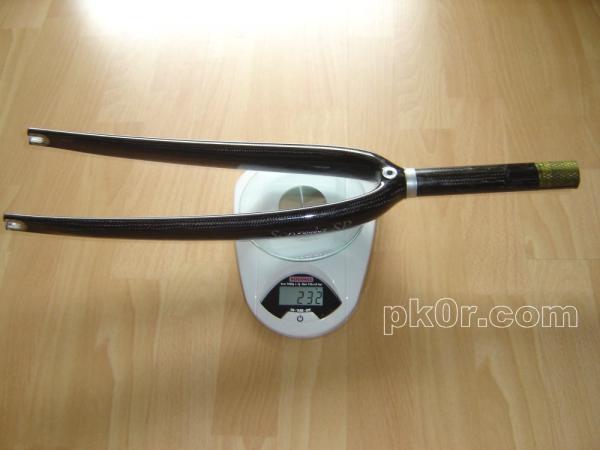 The bottom bracket area is oversized as most of the frames nowadays for superior stiffness. Pinarello's crankset is a modified and relabelled FSA K-Force. It has the particularity to use the same weave as the frame – the 1K. Most of the Pinarello components are actually based on standard manufacturers' components but with slightly different specifications and improvements.
The Charisma wheels, for example, are Corima Aero but the rims are reworked. The lack of roundness at the fiber junction is invisible and imperceptible. The wheel is "rounder".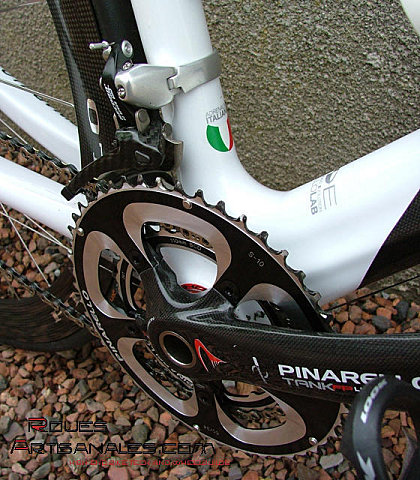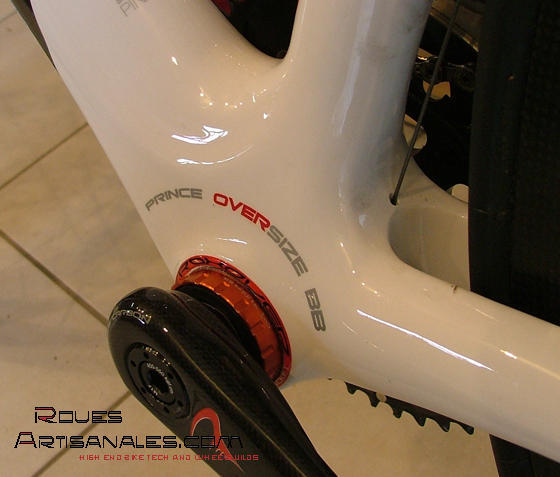 The rear triangle still uses the famous waved and curved seat stays. They are now ribbed as well. The chain stays are incredibly wide and symetric to further reduce the weight and optimize the stiffness. The dropouts are in carbon, like the fork.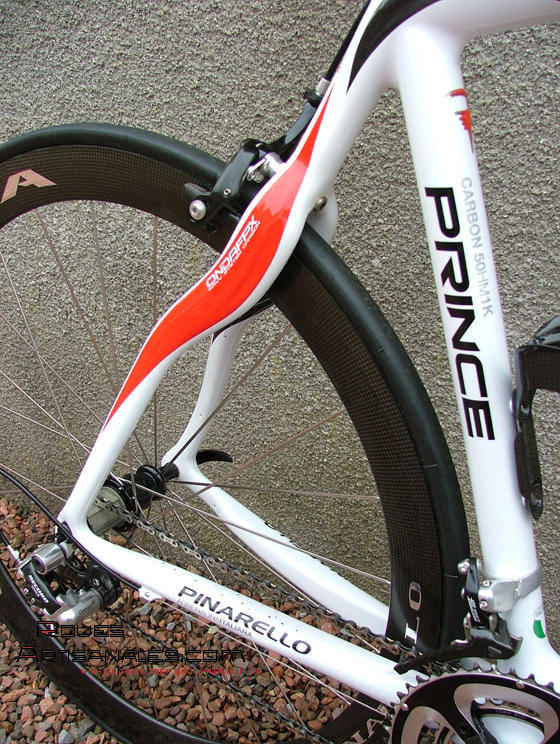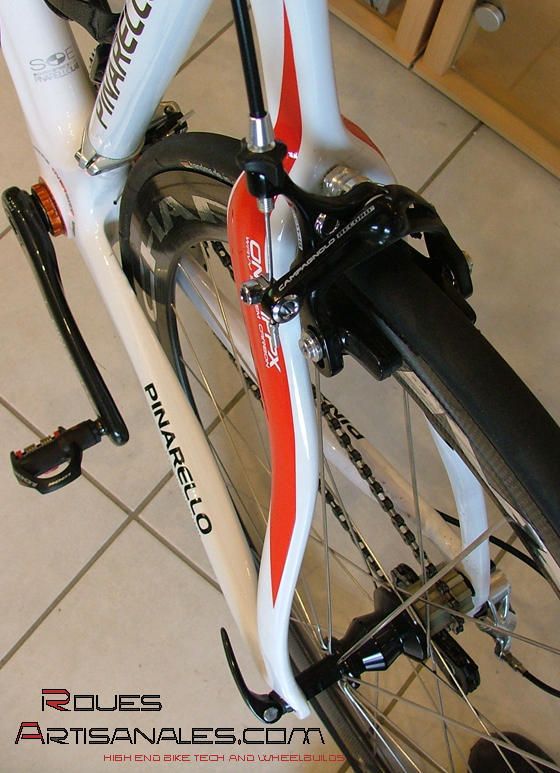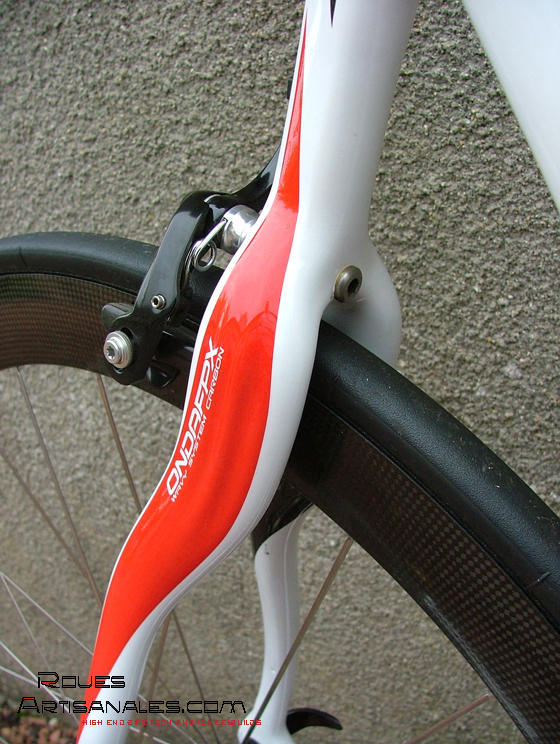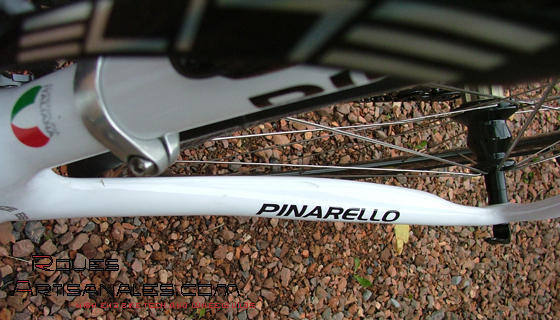 The frame is available in 10 sizes from 44 to 59,5cm. It comes in 4 colors: red, yellow, neon and Caisse d'Epargne. Last but not least, a custom paint programm "My way" is available for the afinionados!
Prince website.
Thanks to Cycles Pagliccia at Berlaimont.