Indeed, some journalists seem to get special privileges in the bicycle world. While Sram firmly embargoed the pictures of the latest Sram Red groupset, Velonews.com journalists could present in a preview showing some components of this groupset.
Well, it will not be used for the Tour de France by the Saunier Duval riders, contrary to what we expected.
The levers
The changes concern, as we mentionned in our precedent article, several important features in relation to the Force groupset:
* the material: the two levers are made out of unidirectionnal carbon fiber
* the shape of the braking lever changes, it is 1cm longer and slightly narrower
* the shifting lever gets shorter and narrower too
* an extra setting appears: the distance between the lever and the handlebar thanks to an angle adjustement (8°) of the lever
* the left shifter evoluates for two things:
– it has got three "clik" to adjust the derailleur
– for the first one, 11° have been shaved from the Force levers
* the weight is 285g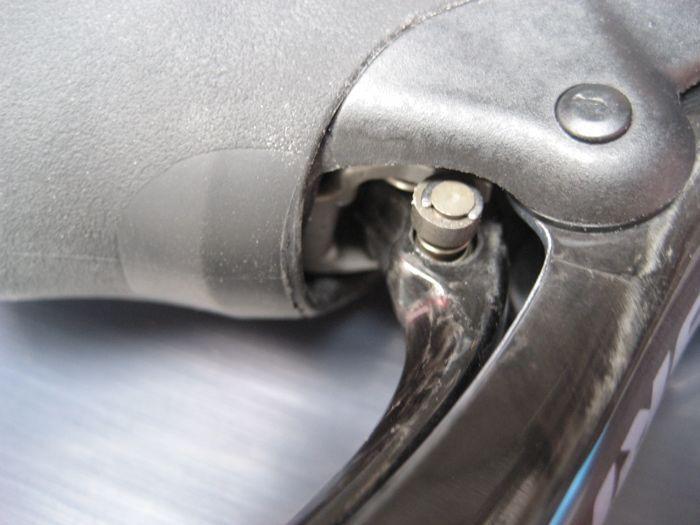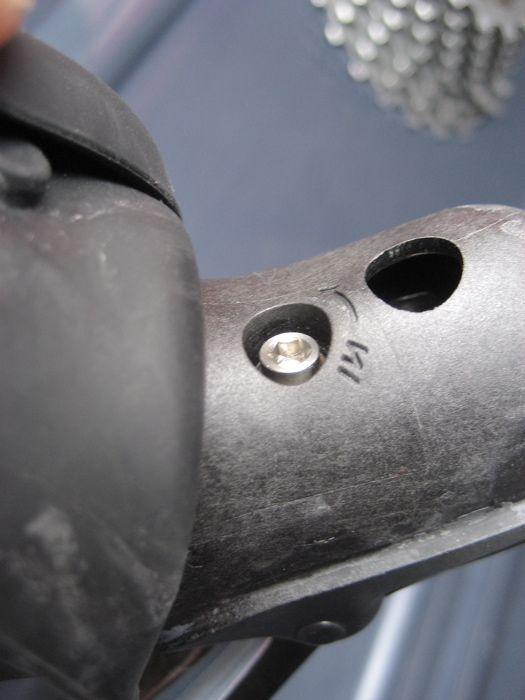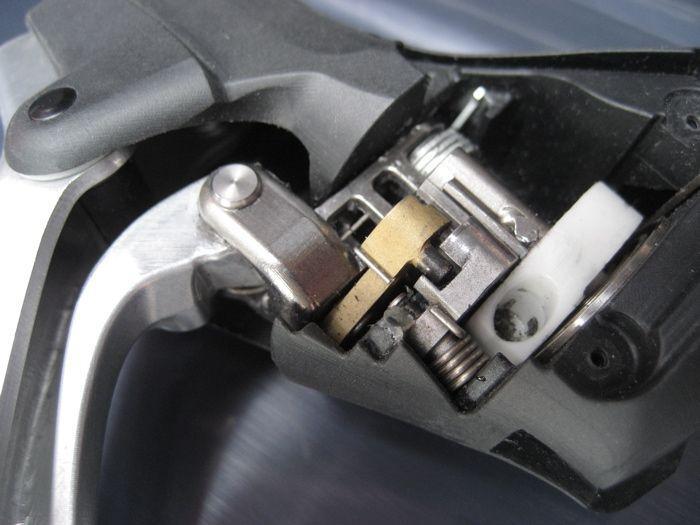 The cassette
Contrary to what we thouht, the cassette presented to our fellow members didn't have the carbon spider.
Here, on the prototype, everything is in steel. The cassette is made out from a solid piece of steel milled and machinned out. Only the first and the last cogs are in contact with the rear wheel cassette rotor. The 8 intermediary cogs are somewhat "following" the first and the last one. This feature allows an ultra light 160g cassette, even through a common and cheap material is used.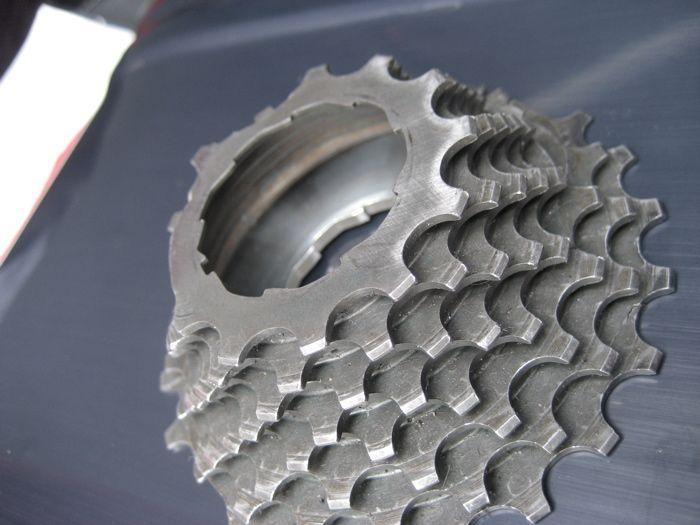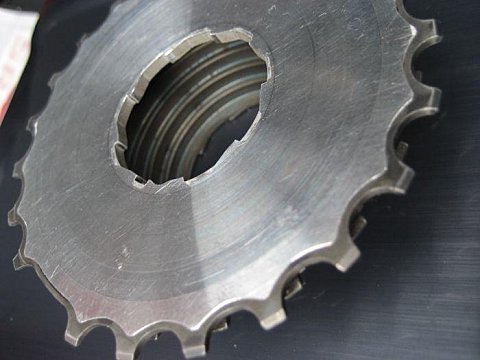 Photo ©: Velonews.com
EDIT:
Cyclingnews has presented some extra information and pictures.
The rear derailleur
It indeed follows what is announced in the pdf that escaped from Sram offices! 🙂
In short, the pulleys wheels have ceramic bearings, the mech plates are in carbon. About the paralellogram, the external link is in alloy while the internal one is in carbon. The spring is in titanium, etc… In concrete terms, it's specialized and light. The prototypes hit the scale with 150g.
Photo ©: James Huang/Cyclingnews.com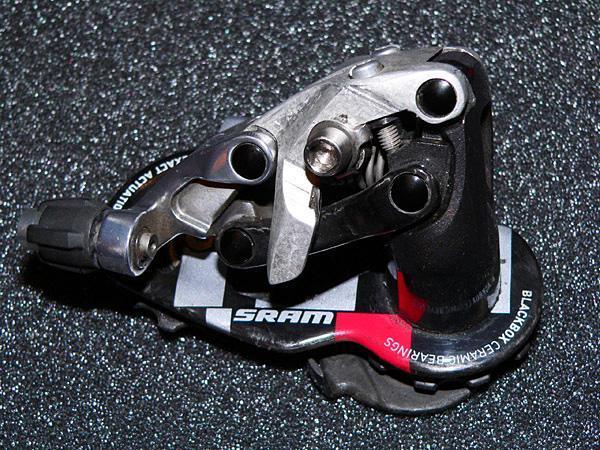 Photo ©: James Huang/Cyclingnews.com
Photo ©: James Huang/Cyclingnews.com
The front derailleur
It seems far from the final version since it is still rough. About the materials, the titanium takes the biggest and the best while a small insert links the two guides. Maybe a prelude to a derailleur with more carbon?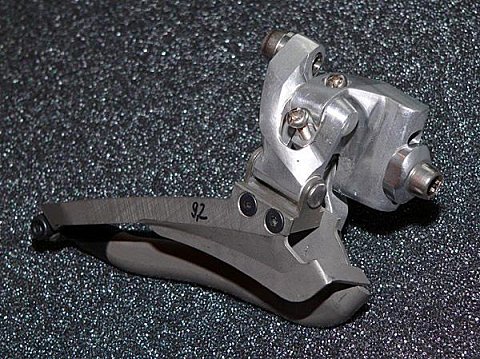 Photo ©: James Huang/Cyclingnews.com
Photo ©: James Huang/Cyclingnews.com
The chainrings
The chainrings look a lot like the Dura-Ace. As usually, the maximal stiffness has been a priority for the development, as well as the minimal weight since the backside is relieved.
About the crankset, we couldn't see it yet. We hope it will be presented during the rest day of the Tour de France in Pau…
Photo ©: James Huang/Cyclingnews.com

Previous
RouesArtisanales
article about the same subject:
LINK