The cyclo-cross brakes which use the former cantilver system don't always have the brake-rim distance properly set. We noticed this imporvement on Bart Wellens bike and so we present you this today.
THE PRINCIPLE
As main settings, the goal is to lengthen or shorten a cable. This system is usable when you change a wheel (width rim can change) or when your wheels aren't true anymore. This system is also usable during a race because it is easily accessible. Moreover this bike part isn't exposed to the mud so the system become usable in all severe conditions.
TOOLS
Cable tension adjuster from shimano derailleur.
A "thread maker" diameter 5mm thread 80
A drill diameter 4 mm.
HOW TO DO ? Drill a 4 mm hole, machine the screw, screw up the tension cable adjuster. Mount and set your brake as you usually do. Now you might set your brake within a 5 mm distance.
Disassembled system:

Mounted system: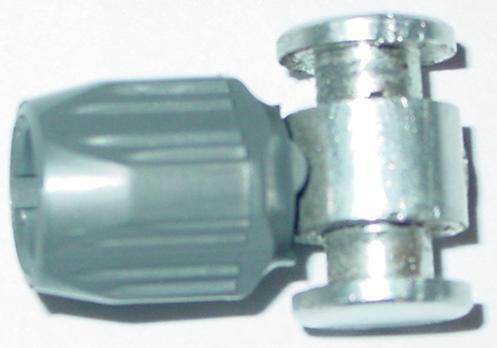 System on the brake: