We mentionned them some weeks ago. Shimano is renewing its wheel range for the next year 2010. The 35mm deep wheels, 50mm and 75mm are new or renewed.
At first sight, the 50mm rim doesn't seem to be receiving technical updates, but the two others are all new.
The shallow 24mm Shimano carbon wheels are pretty good, we are impatiently waiting for the newest 35mm which should be a step more versatile and should fill the gap existing between the current 24 and 50mm wheels.
On the other hand, the 75mm deep rims seems pretty deep and beefy for road racing. The complete wheelset should easily weight more than 1500g. Only 12 spokes, as mentionned in the UCI file we unveiled some weeks ago in a previous article.
The C35 already is the model we like the most due to its high versatility compared to the 24mm…
From a technical point of view, the wheels do not really seem to change. The only difference with the 2008-2009 wheels concerns the external nipples which change color: they were red, they will be black. The stickers are renewed of course.
Previous RouesArtisanales.com article
More to come.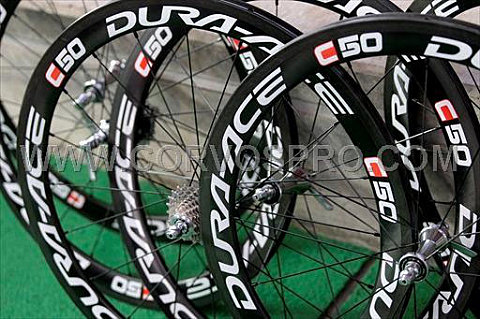 Shimano C50TU – 2010 Product – New decals
www.corvospro.com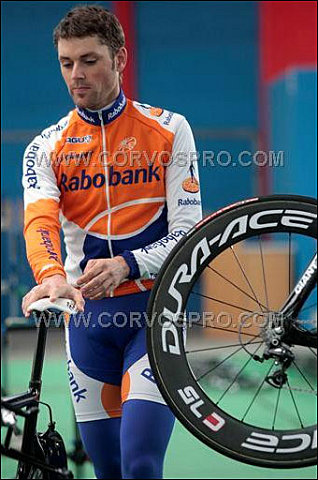 Shimano C75TU – 2010 product
www.corvospro.com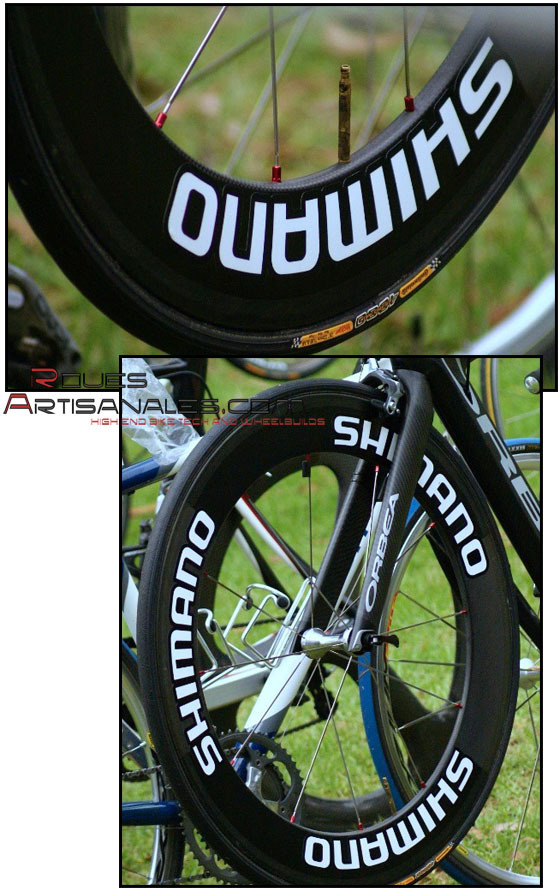 Shimano C75TU – 2010 product
---
Lightweight Standard III Milram special edition
This year, Carbonsport officially sponsors Milram team. Fruits of this collaboration, the team rides the legendary Lightweight wheels, in their latest generation III standard version. Who never wanted to get this wheelset on his machine…? Who never wanted to ride the wheels no one ever had negative comments?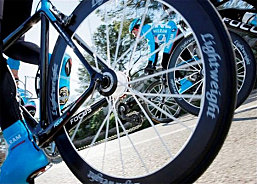 The team is lucky, the riders have a special version of the wheels. Both on the technical characteristics and the aesthetics. Indeed, the spokes and the hubs are white. We first thought it's a paint, but we were wrong. This white color comes from Duraflon coating.
This process is realized within a high temperature range: between 150-180°C. So, this white color is part of the spokes/hubs/rims, it's not only a simple paint. This new cover also is the opportunity to bring solidity to the wheel. Duraflon is used for the metallic windows and cover of façade because it is very resistant in UV rays and other attacks of the environment. By its components, Duraflon increases dramatically the life of the wheel. The rim is smooth and glossy. Beside bringing aesthetics qualities, it also comes with tiny aerodynamic advantages.
Furthermore, the Duraflon cover is so smooth that the dust hardly hang on the spokes. Its extreme density structure allows, in spite of the long rides and the work of the mechanics, to keep the spokes/hubs white.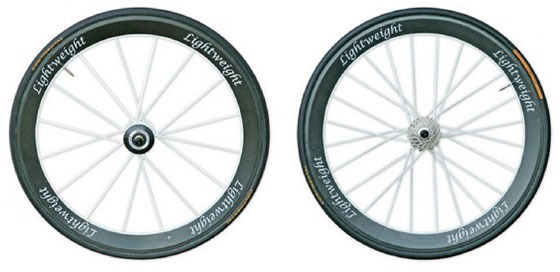 This special pack is sold for 3000€. For this sum you will have besides the pair of wheels, a double wheel bag and quick releases.
The announced weight is 1075 grams.