Look ZED
This is probably one of the most integrated component of the Eurobike. Look definitely pushed the enveloppe with its Zed crankset.
Basically, this component is composed of a single piece of carbon, and a couple of metallic parts. Both arms and the bottom bracket/axle are integrated. Thus, the installation is extremely
easy, we just need to pass one arm through the frame, then lock it with a threaded cup.
It is compatible with both the standard and compact transmissions, the Trilobe adjustement makes the three most usual arm length easy to set, i.e. 170mm – 172,5mm – 175mm
Looks claims it reaches new standards of stiffness, and stiffness to weight ratios.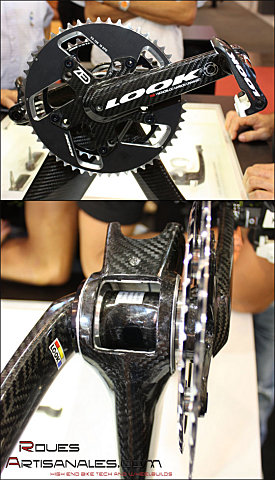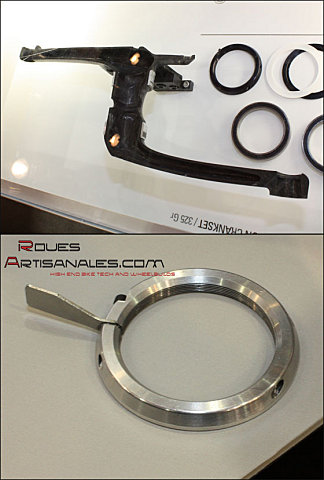 Xentis
Xentis is releasing a new range of conventionnal wheels. They are based on DTSwiss hubs, and DT Aerolite spokes, and the rims are using a twill carbon weave.
Three rim depth are offered, the three both in clincher and tubular. 25mm, 42mm, 58mm respectively for 1699, 1799, 1899 euros the wheelsets. The weights of the tubular versions are 1050g,
1195g, 1395g, and the clincher versions are 1250g, 1335g, 1535g.
Some prototypes were exposed, they used Tune blue hubs, with a triplet rear pattern.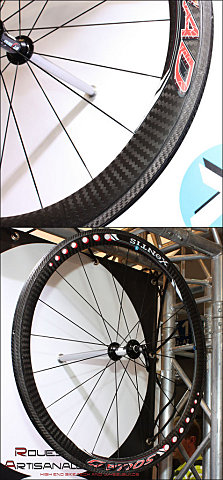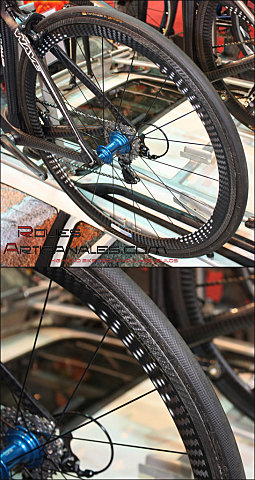 Deda
Deda Elementi has got some new components for 2009. The range of stems/bars/seatposts is really getting very big and more than all, more interesting than ever.
The Presa is the new full carbon bar. It features extremely short drops (128mm), short reach (77mm). Available in 42-44-46cm from outside to outside. The weight is about 209g. It
features the RHM Rapid Hand Movement concept of Deda, to improve the quick changes of handle position. The Presa is coming in an alloy version too: it is named the Fluida, which is
coming in white and black.
Second, the Nuova Sfida is an aluminium bar wrapped of carbon. It features the RHM too, so the shape is shallow: 75mm reach, 128mm drop. The weight is about 308g.
The Zero100 existed only as a stem, the corresponding handlebar is released: strong 7075T6 triple butted alloy. 40-42-44-46mmcm, drop 128mm, reach 75mm, weight 242g.
Finally, the Fast Black 2 is a time trial aerobar weighting 340g.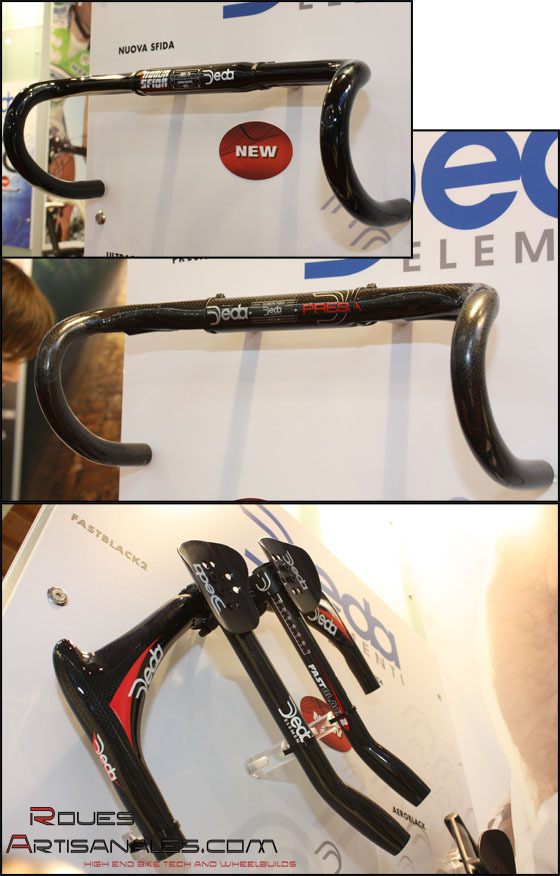 Stronglight
The Helion crankset was presented. Here are the real pictures of the crakset:
You can find more informations in the article we published some weeks ago: HERE.