Crankset test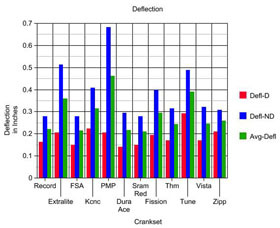 American shop
FairWheelBikes had the opportunity tto test, with the help of EECycleWorks, the stiffness of twelve cranksets.
Campagnolo Record UT, Zipp VumaQuad, Dura-Ace, StrongLight Fission, Sram Red, Tune, and several other cranks reveal their strength and weaknesses in this test.
The deformations of the cranksets are measured at three different places, important in the functionning and representative of the overall stiffness.
The crank arms and their chainrings are installed on the testing bench and 50lbs are applied on the pedal axle to avoid play in the bench.
The deformation tests are performed with an extra load of 200lbs, on each crank arms. The chainring deformation is saved too, it is not very important but it may be useful for riders having
problems of chains rubbing the front derailleur.
Briefly, the cranksets of the biggest manufacturers are all very stiff, and the differences between the formers are pretty small. The Sram Red is getting the best of this test, the FSA SL-K
Light is close. Then the Shimano Dura-Ace 7800 is taking the third place, the Campagnolo Record Ultra-Torque, the fourth, then the THM Clavicula, the Vista, the Zipp, etc… Have a
look at the graph below: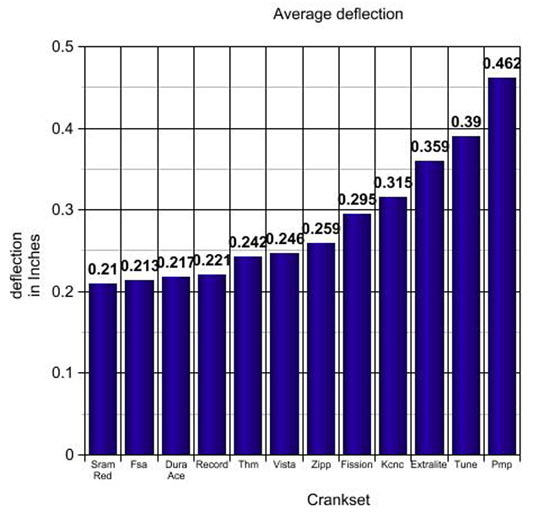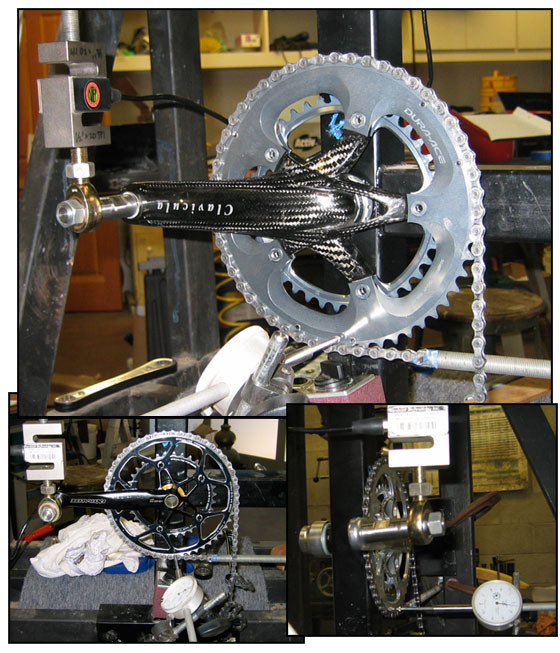 We invit you to visit the FairWheelbikes forum.
LINK
---
Scott 2009 – second part
We presented the newest Scott frames some weeks ago. Only the Plasma is really renewed. It is a very special frame with an appendix under the bottom bracket, bi-directionnal chainstays, and
a streamlined fork.
About the Addict, they are not technically changing. In term of colour, the rear triangle is turning white instead of black, as the rest of the frame. The cross frame, is coming from the
Addict range. The colors and the manufacturing process are identical: the three tubes of the front triangle are made together
Here are some pictures. Thanks to Cycles Dubreucq at Le Quesne au Leu for the pictures of the Plasma and the cross frame.