In a serie of articles Roues Artisanales will comment several aspects of time trial tech: disc and high profiled wheels, TT-bars, aero helmets, etc.

---
Aero helmets


In 2004 new UCI regulations forced helmet manufacturers to provide aero helmets with the same crash safety standards as the helmets used in road races.

Begin 2004 these new helmets weren't available yet, so pros used to cover their older helmet with a plastic film to give it a more aero effect. I thing we would strongly advice to racers without a special helmet for the work against the clock. Exemple is given here by US Postal rider Michael Barry, modifying a Giro Pneumo helmet for an early 2004 time trial.
Nowadays the helmet industry can present us a big choice of these helmets. We give you a view on this stuff.
First of all, I want to point our american readers on this article on USACycling.org: "USA Cycling recognizes new helmet standard". From now on all European aproved helmets can be used in the States, a significant different for some manufacturers, certainly in the TT and triathlon world.
Giro
Since a few months the Giro Advantage helmet is available to the public.












pictures by A e o l u s and Warblade from WeightWeenies
(click for lager view)

Inside the helmet one can see the good shock protection. The helmet looks like being built around another Giro model.
We strongly regret the aero version used by the members of the Discovery Channel team (and Floyd Landis on several occasions) isn't made available. This once differs a bit from the Giro Advantage model and looks even more aero. Compare the helmet used by Discovery's Vladimir Gusev and Rabobanks Matthew Hayman during last Paris-Nice prologue.


For shorter work against the clock in colder weather condition, we noticed the little strips used to cover the wholes.

Here we see Joost Posthuma doing this during the Paris-Nice prologue.

picture: website www.joostposthuma.nl
webiste: www.giro.com
Bell
Nice product just on the market as well is the Giro Meteor II helmet, currently available in a red and white version. Bell is the helmet supplier of Pro Tour team CSC.
We regret Bell bringing, just like Giro, another version than the one being used by the pros! Compare yourselves with the one David Zabriskie is wearing here on his win in the TdF 2005 first stage.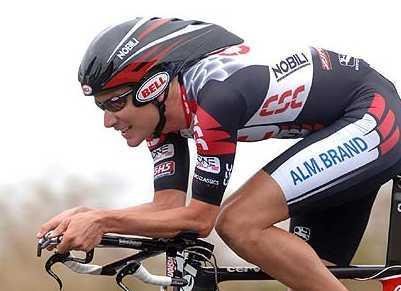 picture by Graham Watson
website: www.bellbikehelmets.com
Specialized
Not just a frame manufacturer any more, Specialized is bringing helmets for some time now. They sponsor team Gerolsteiner, Cofidis, Davitamon-Lotto and Liberty Seguros – Würth.
It appears Specialized is coming with a new aero helmet, the previous one not being very impressive.
It is unknown when and if these helmets can be purchased.
website: www.specialized.com
Met
This brand had an aero helmet very early, and is in fact bringing two helmets. The PAC VII is their real aero helmet, as being used by Levi Leipheimer last year. A yellow version will be used by team Saunier Duval Prodir this year.
The other helmet could be discribed as ideal for triathlon use. Brought to victory in the 2004 Hawaii Ironman by Norman Stadler.
website: www.met-helmets.com
Catlike and Spiuk
Two spanish producers. Catlike sponsors team Phonak and team Comunitat Valencia, Spiuk delivers helmets to Caisse d'Épargne-Illes Ballears and team Kaiku.
Both brands are hard to find if you're not in Spain. Though Spiuk delivers a very nice helmet to Alejandro Valverde's team (this one not being available), we are not convinced by the model on their website (delivered to continental team Kaiku and female riders like Somariba).
We did notice Floyd Landis with a Giro helmet during the Tour of California TT and the Paris-Nice prologue.
website: www.catlike.es and www.spiuk.com
Lazer
The belgium helmet producers didn't succeed in making a seducing TT helmet. The Chrono 3 on their website doesn't look convincing. No wonder Michael Rogers choose another for the world TT championships in Madrid last year! And the QuickStep-Innergetic team looks like using Limar models.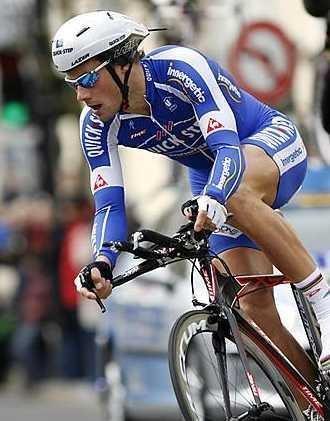 webiste: www.lazerhelmets.com
Uvex
This german helmets supplier make the helmets of the T-Mobile team. The Uvex
website: www.uvex-sports.de
With these I believe you have a nice survey of the most used aero helmets on the market. Feel free to add your comments! 😉