Signature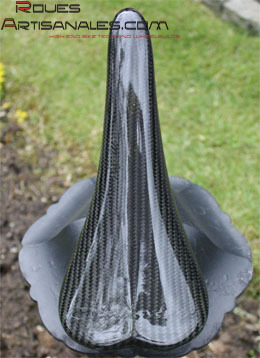 We are happy to present the newest creation from the finland artisan working the black fibre. Samu Ilonen made a very nice mirror finished saddle, which is very light and has some
good technical features too. Well, first of all, the finish is close to the perfection, the rails shape is modified from the simple round tube: the rail actually is higher than wider to be
more clamping resistant, the rails/shell junction is covered with 1K fibre, which is better to fit the curves, and finally the rear of the saddle has a three dimensionnal Signature
logo.
Classy and quite discreet.
From an ergonomical point of view, a rib is molded in the rear side of the saddle and the saddle is curved a lot in the middle section. These two specifities contribute to a perfect fit
when sitting.
Although the saddle is really close to the perfect product, we could notice the component lacked a little of symetry: the saddle is slightly wobbly, about one millimeter when standing on
its rails. The sides of the shell met the same particularity: the right side is a little longer than the left one. Basically, there is nothing that might affect the product functionnality
and the position of the rider since the top of the shell is perfectly symetric but we keep an eye onto this.
We should have a first ride on this saddle in a few days, depending on the weather and the free time.
Previous Roues Artisanales articles:
– Signature
– Concor carbon