Taipei bicycle show
Taïpei bicycle show took place in Taïwan during 4 days, from the 16th to the 19th of March. Although there were no interesting news, since the manufacturers prefer to feature their newest
stuffs during the Eurobike and the Interbike, we could see some interesting products.
Rival levers
Sram Rival levers will get a carbon structure for 2009. After most groupsets from Campagnolo Record, Chorus, Centaur, then Sram Red, and finally Shimano Dura-Ace for 2009 too, it's Rival's
turn to get a new look.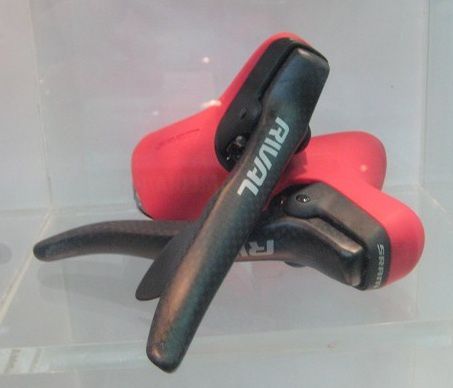 Grammo wheels
Do you remember the Grammo wheels we presented mid septembre 2007, a few days after the Eurobike where they were actually
almost hidden…?
Well, the wheels were obviously featured in Taïpei and they brought a lot of attention. Take a look at the picture below, you can see the very special spokes looking like everything but a
spoke! The associated tensiometer is a pure beauty.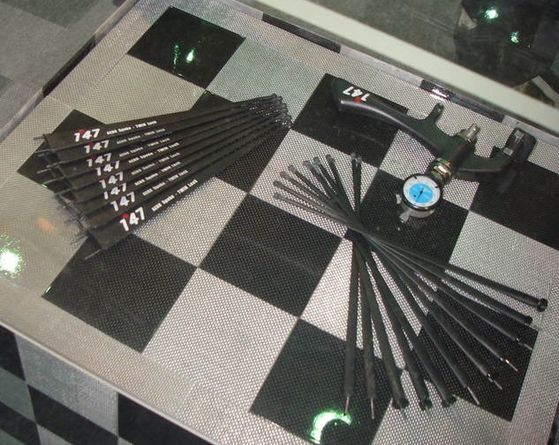 Source:
WeightWeenies
Fiets
---
Orbea Orca 2009
Featured on Cyclingnews, the latest Orbéa Orca, which will be available for 2009, gets more muscle with 20% more stiffness thanks to different fibers and loses 10% of weight at the same
time. The frame will end up at a light 850g and the frame/fork/headset at 1290g. The biggest weight save come from little gains at miscellaneous components such as the seatpost collar which
is made out of magnesium. Some parts are still in aluminium: the frame drop-outs need reliability and easy replacement in case of crash. They anyway are lighter: 25g are saved!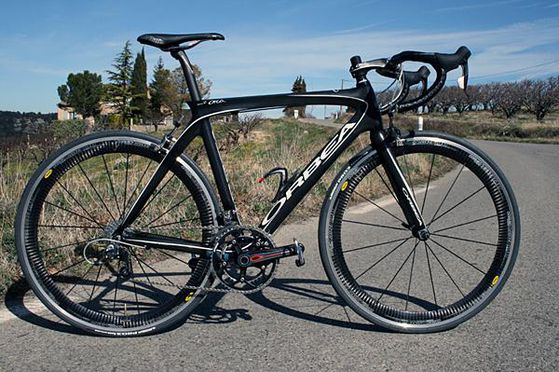 ---
Roues Artisanales Lew/Tune/DT Aerolite
The german website Light-bikes.de got a handbuilt wheelset from our hands to test and feature. With just 1039g the complete wheelset (1042 with some tubular glue), the Lew Racing Pro VT1
2008 rims, the Tune Mig70 and Mag180 hubs, and the DT Aerolite bladed and tied spokes bring superb ride qualities. Please have a look at the first part of the test.
Roues artisanales test (in german).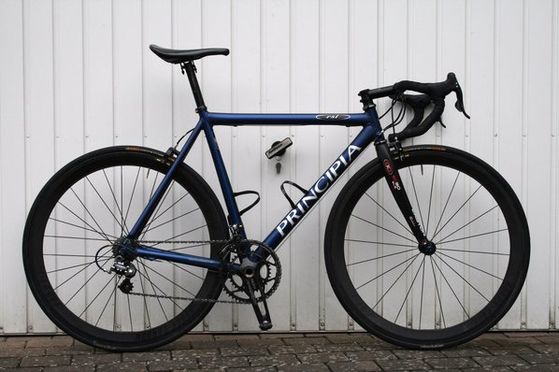 ---
Shimano Dura-Ace 2009
The french magasine L'Acheteur Cycliste has got very sharp pictures of the latest Shimano Dura-Ace 2009 mechanical groupset. The rear derailleur with the carbon shape is clearly visible,
and the carbon crankset too. Feel free to get the edition of April.