Campagnolo
Do you remember the Pro version of the Ergopower, providing harder shiftings for sharper gear changes? Campagnolo decided
to sell them in a limited version, please read below::
Vicenza, 20 March 2008 – Special Ergopower controls made for the professional teams are to be sold in a limited series. There will be 600
pairs and they will only be sold as complete Record groupsets with the same specifications as those of the racing teams: 39/53 crankset and 11-23 or 12-25 sprocket
set.
Even though the peculiarities of these special Ergopower controls are in clear contrast to what the market has been asking for in recent years (softer and lighter actuating force),
the demand has been conspicuous. It would in fact appear that some cyclists wish to feel the same sensations that professionals get when they are on their bicycles and want
sharper and sonorous shifting.
The Record groupsets with special Ergopower controls will be available starting from mid March and at the same price as the standard Record groupset.
Source: Campagnolo
Shimano & ROTOR ?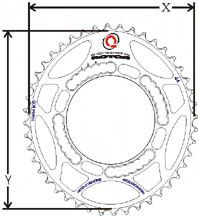 Although we are
already waiting for a ton of news from Shimano for 2009 (i.e previous new), particularly regarding the new Dura-Ace 7900 groupsets, it seems like we should expect even more. Indeed,
according to some rumors, Shimano would have bought Rotor, or at least its oval chainrings patent, reducing the dead spot during the pedaling motion.
True or false, it would anyway mean a great improvement, a complete strategy change from Shimano, which was rather conservative: it followed the market instead of leading it, since a long
time. For example, the carbon components are used by Campagnolo, its main competitor, since a few years, Shimano will start using them for…2009!
The only counter-example is the Dura-Ace 7800 crankset and its specific bottom bracket. Released in 2004, they really swept the previous concepts. Since this release, it's been quite calm
at Shimano.
edit: it seems like the rumour will remain one…
Mavic
Seen on the french forum JulMTB, Mavic would be developping
new road pedals. We briefly featured the new clothes department the 16th of January. Obviously, Mavic will not
only offer its own shoes or clothes line, but pedals as well.
Carbon plate, titanium axle, the look and the shapes are very close to Look pedals. It is said the Kéo cleats are even compatible with those.
The pair of pedals would weight 288g in steel axle version.
More to follow.

The picture had to be removed. Thanks for your understanding.