One year after Vumaquad's release, Zipp unveiled the VumaChrono, an aerodynamism-optimized crankset, specifically designed for time trials and triathlon.
Design : The crankset was designed without star. It is actually a carbon plate which is integrated to the crank. The diameter of this plate is slightly narrower than the chainring so the the teeth are a few millimeters above.
The external chainring is fixed to the crank thanks to 9 screws divided all around the carbon face. The internal chainring is located very closely to this carbon face. It is although
independent from it, with its own screw set, like a Stronglight X-Wing crankset. With this design, the VumaChrono can be used in a classic configuration as well as with a single
chainring, depending on the need. In addition to its aero properties, its design makes a stiff component. Indeed its bolt circle diameter is much larger than a classic crankset and it
also has 9 fixing bolts instead of 5.
It weights about 860 grams with ceramics bearings as standard. Its Q factor is 146 mm.
According to Zipp engineers, this revolutionary crankset would make you save 9 seconds during a 40 km event, which is the same as removing 12 spokes from the front wheel!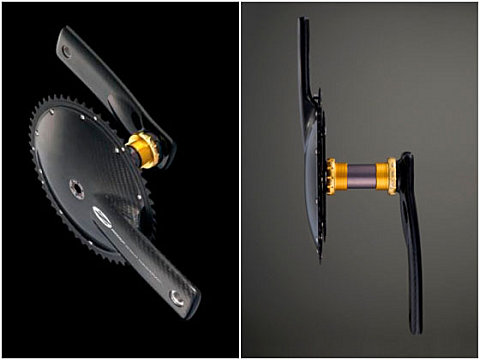 Concerning the compatibilities, this crankset exists in BSA and italian thread. Thus there is no BB30 expected for the moment. Zipp may be waiting for this new diameter to become the standard. This crankset will be available with cranks from from 167,5 mm to 180 mm with 3 chainring combinations : 53/39, 54/42 and 55/42.
DT Swiss 2010
We featured them in a former article, about Taïwan show, the newest DT Swiss wheels will be available in limited quantities by the end of the month. They are coming with uni-directionnal carbon fibre, DT240s hubs with special decals, and white DT Aerolite spokes and three rims depth: 32mm, 46mm, 66mm.
Each wheel will be available both for tubulars and clinchers for 2150 euros and 2480 euros, wheelbags, RWS quick releases, brake pads and special truing tool included.
| | | |
| --- | --- | --- |
| Tubular | Weight/set | Price/set |
| 32mm – RRC425 & RRC525 | 950g | 2150 euros |
| 46mm – RRC445 & RRC555 | 1000g | 2150 euros |
| 66mm – RRC625 & RRC725 | 1350g | 2150 euros |
| Disc wheelRRC1055 | 1055g | 1239 euros |
| | | |
| Clincher | | |
| 32mm – RRC570 & RRC680 | 1350g | 2480 euros |
| 46mm – RRC600 & RRC700 | 1400g | 2480 euros |
| 66mm – RRC770 & RRC880 | 1650g | 2480 euros |
| Roue lenticulaire RRC1055 | 1300g | 1563 euros |
We find the weights a little too optimistics for the two first wheels, the 32mm and the 46mm. Indeed, if we refer to their names, supposed to be giving the weights of the wheels, the 32mm deep rim would weight 220g while the real weight is 240g (tubular). The 46mm deep rim has the same issue: it actually weights 300g, while it would be weighting only 260g according to the claimed weight!
However this doesn't affect the high quality we expect from the DT Swiss wheels. The product will be officially unveiled at the Eurobike 2009, early in September.