Look ZED
We briefly presented this piece of art on the 5th of July.The newest ZED crankset will set new stiffness and lightness standards at its release during the fall.
The crank arms, whose stiffness to weight ratio is almost twice as important as the Shimano Dura-Ace, are claimed to be 320g. The traditionnal or compact transmissions will be compatible
thanks to a dual chainring screw position. Beside this, the length of the crank arm will be adjustable according to the preferences, through the TriLobe system.
Absolutely a wonderful component, which is well thought too, both because of the standard/compact transmission compatibility, and because of the arm length adjustment.
Nevertheless, we have a few negative points to mention. First this part will only be compatible with the 596 Triathlon frame, and the newest Look Keo ZED pedals, featuring a carbon body and
a titanium axle.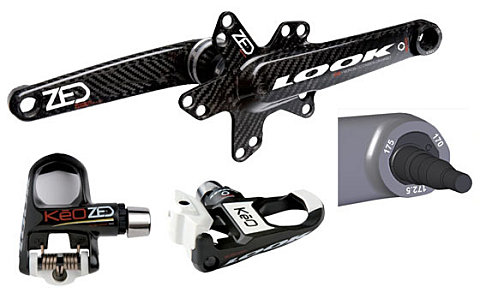 More informations on:
Cyclingnews (gamme complète)
CycleSuperStore (pédalier et pédales)
Lew & Longo – Olympic games



Click to enlarge
Jeannie Longo won the road and time trial French national championship with Lew wheels. For the road race, she was using the complete Pro VT-1, while for the TT, Paul Lew made her a
custom wheel Lew B+/Extralite SX with only 10 thin and aero spokes. In term of aerodynamic, the wheels were at the top, with only 320g.
For the Olympic games, Paul Lew improved it a little further since he made another wheel with only 8 spokes! We fear the durability won't be the strongest point of the wheel, but
the aim is not really the durability…
Beside this ultra-light and aero wheel, Lew Racing designed a new disc wheel named « Disc Cranked Arrow« . This wheel seems to feature a standard rim with a kind of
carbon/boron « fairing ». According to the manufacturer, this wheel would be faster than the Sub9 from Zipp… we should know more soon.
Shimano Di2
Finally! The Shimano electronic groupset has been officially unveiled and it will be available for 2009.
Although almost all the features are unofficially known since months, it's good to know the exact specifications. This first electronic groupset to be released, will be 113g lighter than
the current Dura-Ace 7800 groupset, and about 68g heavier than the Dura-Ace 7900, 2009 version.
The advantages of these kind of groupsets didn't seem obvious at a first look. However, Shimano reassured us with some interesting arguments:
– Very fast and accurate shifting:
* the distance to shift is very short
– Electric cables instead of mechanical cables
* no more contaminated cables in the housings after rides under the raid
* the rear derailleur is equipped with a servo motor
* the derailleur precision is kept after a first initial setup
– Battery length of life: 1000km
* complete recharge in 1 hour and a half
– Some integration in a bike frame may be possible soon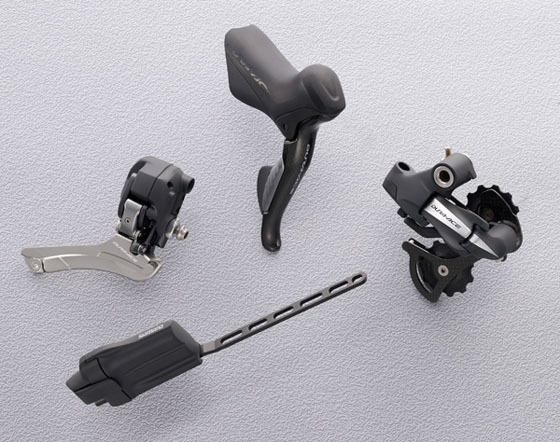 More information on:
Velonews