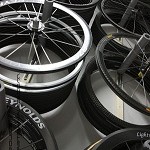 We made it happen in 2005 and 2008 over a wide selection of wheels. The test was such an outstanding international success we've decided to do it again to include the latest and greatest hoops.
This time, we focus on quality rather than quantity for an even more thorough analysis. You'll find lots of pictures, details and descriptions to satisfy your thirst for the highest performance wheels on the planet.
This 2011 edition will only cover full carbon wheels. Our deep analysis and testing is time-consuming, so we won't be testing as many wheels as in previous editions.